Intel has published its second-quarter 2018 earnings. If you look at Intel's news site and up-arrow strewn infographic, reproduced below, you would think everything is fabulous. Profits were up 15 per cent year on year at $17bn. PC-centric revenues were up a decent 6 per cent, and data-centric revenues in all four segments of Intel's business enjoyed double digit percentage gains. Unfortunately, there is a 14nm sized fly in Intel's ointment.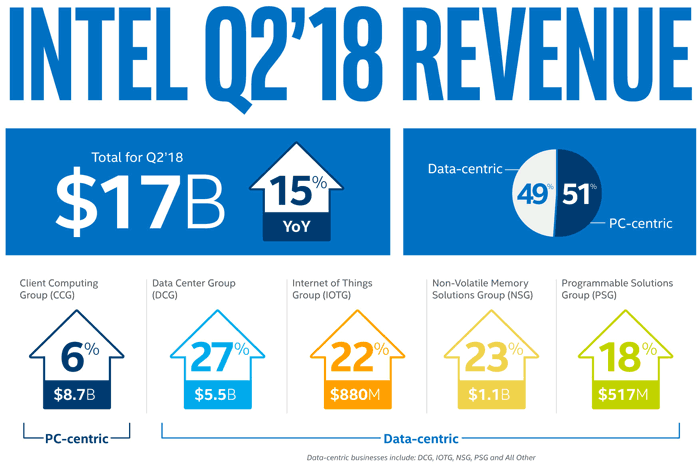 Bob Swan, Intel CFO and Interim CEO, welcomed the better than expected results and looked forward to Q3. "After five decades in tech, Intel is poised to deliver our third record year in a row. We are uniquely positioned to capitalize on the need to process, store and move data, which has never been more pervasive or more valuable," said Swan. "Intel is now competing for a $260 billion market opportunity, and our second quarter results show that we're winning. As a result of the continued strength we are seeing across the business, we are raising our full year revenue and earnings outlook."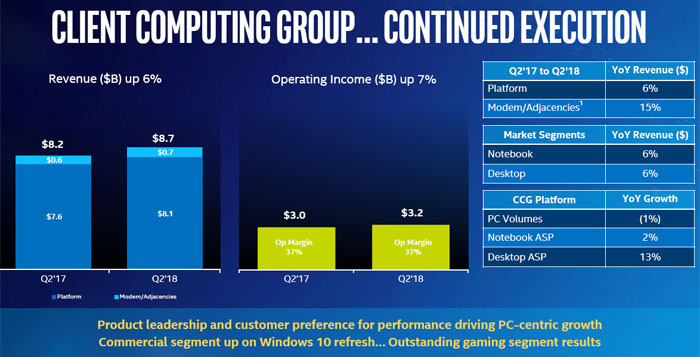 The latest results are good, and the stated outlook is good - so what has hit the afterhours share valuation so badly? PC-centric business still accounts for the majority of Intel's revenues but Intel is having difficulties transitioning from its 14nm process. It has to keep tweaking architectures and refining 14nm as it delays 10nm mass production for some reason.
As noted by PC World, in the earnings call Intel said that it will not deliver 10nm silicon to consumer PCs until 'Holiday 2019'. Until that time Intel will leverage its 14nm products for 'system leadership'. 10nm Xeon processors would follow shortly after the consumer releases said Intel. (Please note that Intel has already rolled out some lower-end 10nm chips in lower volumes, like the Intel Core i3-8121U, used in the Lenovo Ideapad 330.)
Venkata (Murthy) Renduchintala, who runs Intel's Technology, Systems Architecture & Client Group attempted to address investor concerns about the 10nm volume production delay. Renduchintala reminded listeners that 14nm products have delivered in excess of 70 per cent performance gains since inception and could deliver continues gains with another tweak.
What processor architectures Intel will ship between now and 'Holiday 2019' remains to be seen. However we are soon expecting 'Whiskey Lake' and 'Amber Lake' chips to arrive, built on Intels 14nm ++ technology