Sometimes it is worth looking back at how far computing power has come, to put things in perspective. Helping many PC enthusiasts do just that is a recent Reddit post by dylan522, who pitted two PC processors, old and new - a decade apart, against each other in PassMark Software's CPU tests.
HEXUS has a couple of old reviews featuring the Intel Core2 Quad Q6600. First of all, back in September 2007, Tarinder got his hands on a PC Specialist Apollo Q6600-X system. A couple of months later, he went on to pit the popular Intel Core processor against the AMD Phenom 9600. This marked the beginning of a protracted period of Intel strength due to its processor performance, not just market dominance.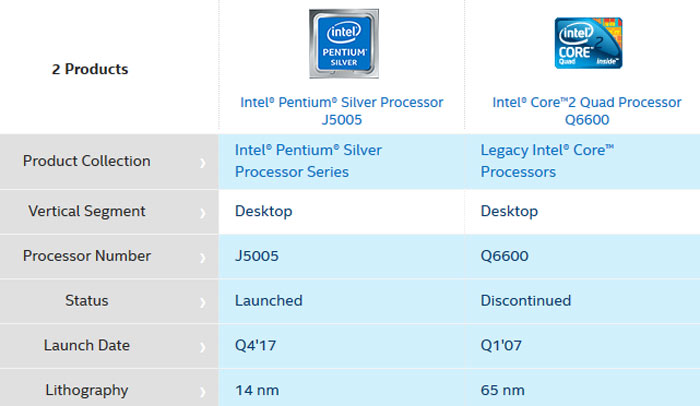 The official processor comparison table above provides the background to the feat achieved by the entry level Intel Pentium Silver Processor J5005. Until recently this would have been marketed as an Atom product, and it leverages the Gemini Lake 'Goldmont Plus' architecture, as a successor to Bay Trail, Braswell, and Apollo Lake parts.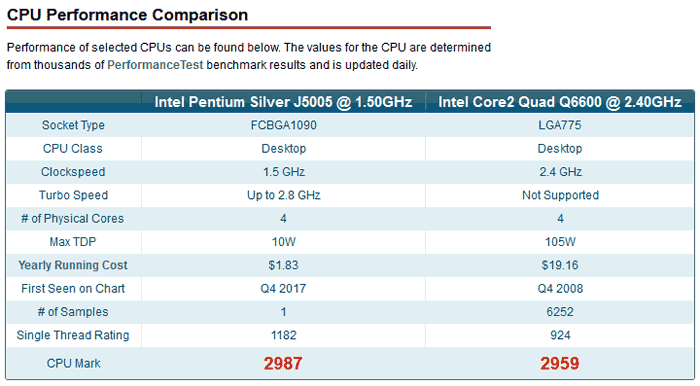 PassMark CPU test results 2018
Two impressive metrics to check out are the J5005's lower base frequency, and its power sipping performance. Both the J5005 and Q6600 are quad-core parts, which makes this a clearer contrast, rather than some other decade apart processor comparison. Another great plus for the J5005 is that it comes packing Intel UHD Graphics 605 - one is left wondering how that would compare to a mid-range GPU from 2007…
Thanks to the anonymous HEXUS reader for the Reddit link.