On Friday HEXUS reported that AMD had officially announced its Ryzen 7 and Ryzen 5 2000-series CPUs. Four models were announced in all; the Ryzen 7 2700X, Ryzen 7 2700, Ryzen 5 2600X and Ryzen 5 2600. Pre-orders are open and retail availability set for Thursday 19th April and HEXUS will be allowed to publish its full review of the new CPUs nearer that time. Shortly after publication our article was updated with UK pricing and pre-order links.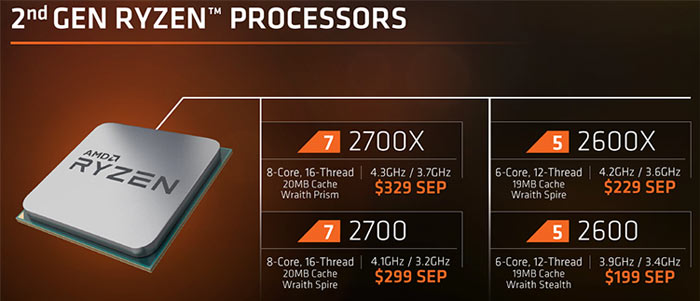 As is often the case, some organisations and individuals publish benchmarks and other testing results ahead of what is officially condoned. Earlier today TechPowerUp reported that a PC enthusiast with the moniker of 'TSAIK' has already been overclocking the AMD Ryzen 7 2700X and Ryzen 5 2600X chips using LN2, and sharing the results.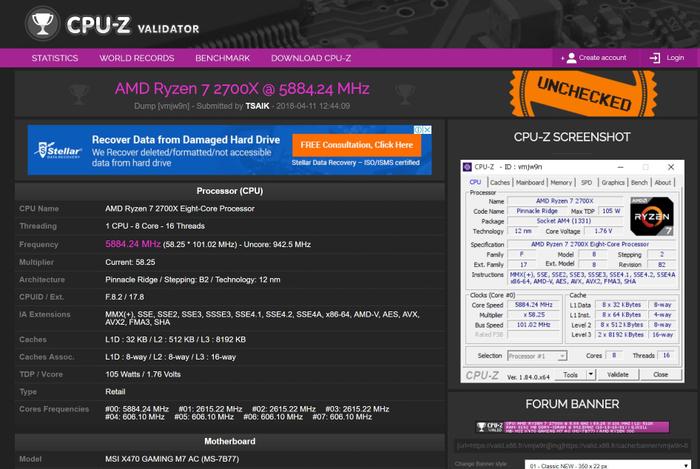 In the screenshots you can see the nitty gritty details of these overclocking attempts. Starting with the more powerful 8C/16T AMD Ryzen 7 2700X, you can see that an OC of achieved 5.884GHz with a 58.25X multiplier on a 101.02MHz base clock - the core voltage was set to 1.76V. An MSI X470 Gaming M7 AC was the motherboard of choice.
Turning to the 6C/6T AMD Ryzen 7 2600X, it was very slightly slower in GHz terms, at 5.882GHz. TSAIK used the following settings to achieve this OC; the same 58.25X multiplier (as above) with 101 MHz base clock, and a slightly higher core voltage of 1.768V. This time around an MSI X470 Gaming Plus was used for the OC shenanigans.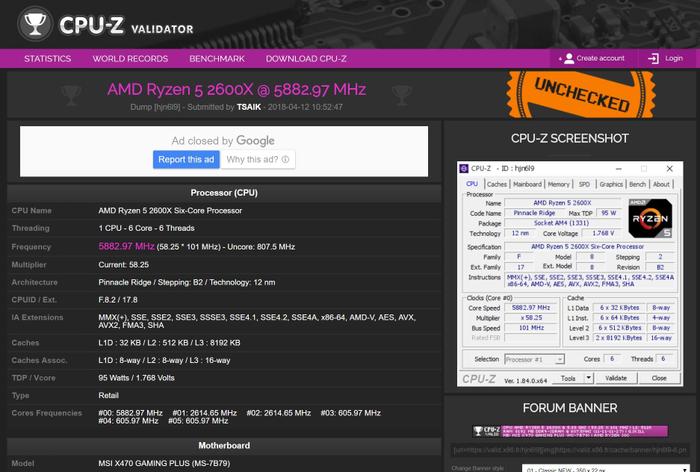 Looking elsewhere in the system configurations you can see that the overclocker used a single 8GB stick of G.Skill Trident-Z DDR4 memory with both setups.
The above LN2 OC might be academically interesting but we'd like to see how these new Ryzen 2000 processors overclock using more common-or-garden air and hybrid coolers.