Yesterday AMD published a round table discussion video, where various AMD execs and engineers spoke on the topic of Ryzen Processors: One Year Later. Yes, it's only been about a year since AMD Ryzen processors first became available, and so far we have reviewed eight major releases from the product range here at HEXUS. For reference, taking part in the AMD discussion video, embedded below, were; John Taylor (Chief Marketing Officer), Suzanne Plummer (CVP Radeon Technologies Group), Mike Clark (Sr. Fellow Design Engineering), James Prior (Product Manager) and Christina Iron (Director, Global Campaigns).
In any such discussion once you finish your retrospective blurb it is natural to bring people up to date with current developments and then perhaps provide some taste, or teaser, for what lies ahead. This is exactly what happened in the AMD discussion. If you skip forward the video to approx 12 minutes you will hear Senior Fellow in Design Engineering at AMD, Mike Clark, talk about meeting the challenge of building performance generation to generation, always expanding the roadmap.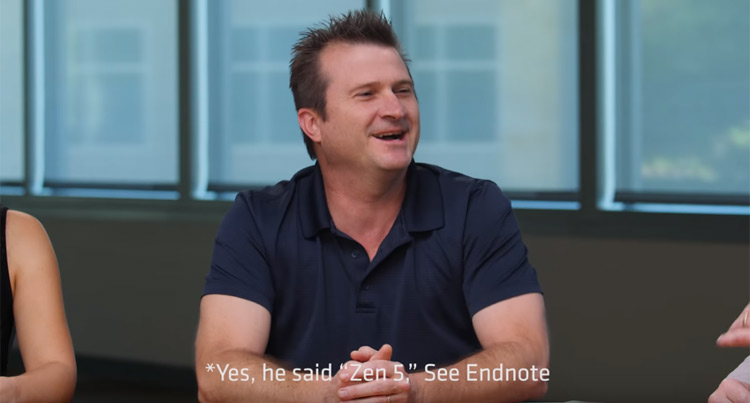 "It's very exciting," Clark enthused, indicating that he enjoys the rigour, the rivalry, and the challenge of making AMD Zen architecture as good as it can be. "As an architect I am already working on Zen 5, actually," he revealed, catching us off-guard. Clark went on to explain that projects take so long to bear fruit that he simply has to be working several generations ahead.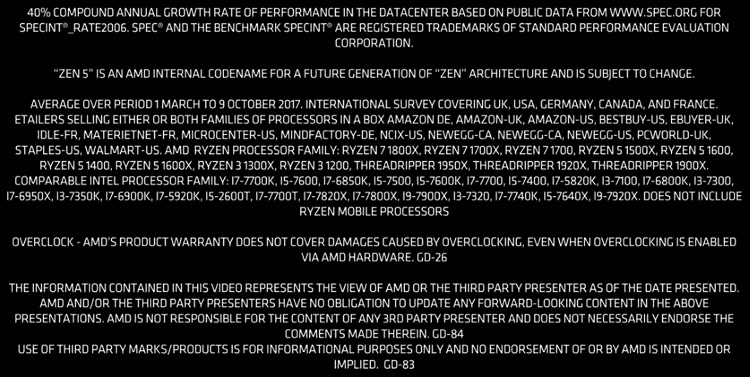 *See second paragraph
Zooming back to the current time, AMD is readying to push out the Plus version of the first iteration of the Zen architecture - via the Zen+ Ryzen 2000 series of processors. Back in May last year we saw AMD reveal that Zen 2 and Zen 3 would arrive between now and 2020 on 7nm fabrication processes. There is a chance that Zen 4 will be skipped due to the number's unfortunate connotations in Asia, making Zen 5 likely to arrive in 2021, approximately.