Leaks and spills concerning the upcoming AMD Ryzen 2000 series CPUs are coming thick and fast right now. Last week we witnessed the AMD Ryzen 2000 Series roadmap and specs leak, and pondered over a set of interesting Korea-sourced benchmarks from what was likely to be a Ryzen 7 2700X processor. This week we saw some more benchmarks emerge courtesy of Geekbench; this time you could check over Ryzen 7 2700X and Ryzen 5 2600X processor specs and scores.
Today we are covering more of a spill than a leak, as eager online retailers have accidentally published product pages sharing details, specs and possible pricing for upcoming new AMD 2000 Series chips. VideoCardz has done the best job I have seen of gathering together multiple retail spills, and it includes screenshots of listings from Amazon, TigerDirect, Prinfor, and DirectDial.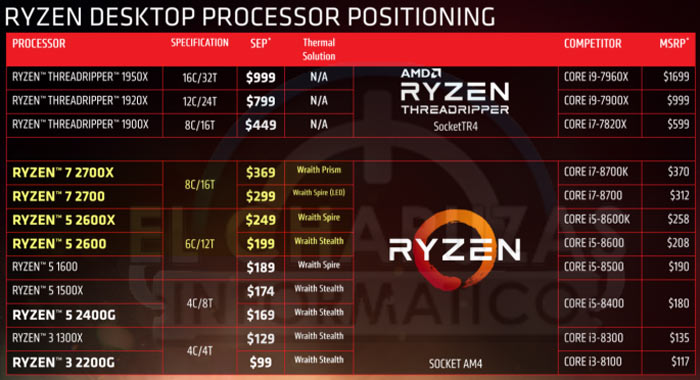 Checking over all the screenshots we can see that pricing is roughly in line with the leaked presentation slides we first saw a week ago. For convenience I have repeated the 'Ryzen Desktop Processor Positioning' slide directly above. In a couple of European listings you will see that the AMD Ryzen 7 2600X is priced at approx €250 - AMD's MSRP is expected to be US249 with a Wraith Spire thrown in. There's only one example of a Ryzen 7 2700X for sale in this VideoCardz published retail listings batch and that is from TigerDirect, with a price of $422.99 - a significant premium on the suggested $369.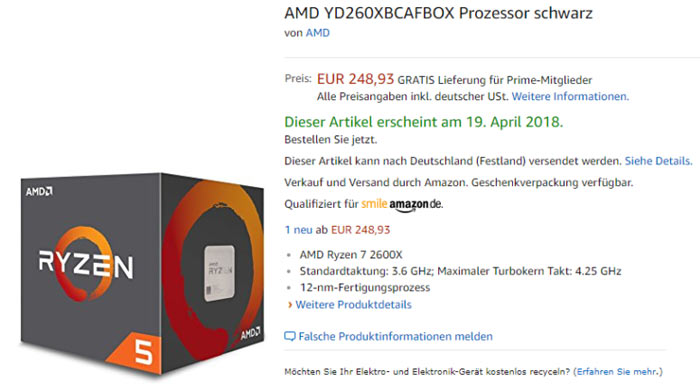 As for availability, the Amazon.de listing indicates a shipping date of 19th April for its AMD Ryzen 5 2600X. VideoCardz reckons this makes sense as the date aligns with motherboard availability information.
I've looked to see if any of the listings are still live at the time of writing and found the Ryzen 5 2600X listed at $274.99 and as 'temporarily out of stock' at TigerDirect. Also there's a Ryzen 7 2700X listed on DirectDial at CAD$511, and at Prinfor (Portugal) for €384.08 including tax.