A few hours ago AMD held its Ryzen One Year Anniversary webinar. The purpose of the event was an investor recap of the Ryzen success story so far, and to look forward with an overview of the rest of the year with respect to AMD's computer processor line. For the full information burst you can head on over to the official webinar page which now hosts a recording of the presentation along with some accompanying slides. The webinar material was discussed by AMD's Jim Anderson, SVP and GM, Computing and Graphics Business Group, who took part in a Q&A session in the latter part of the event (also in the recording).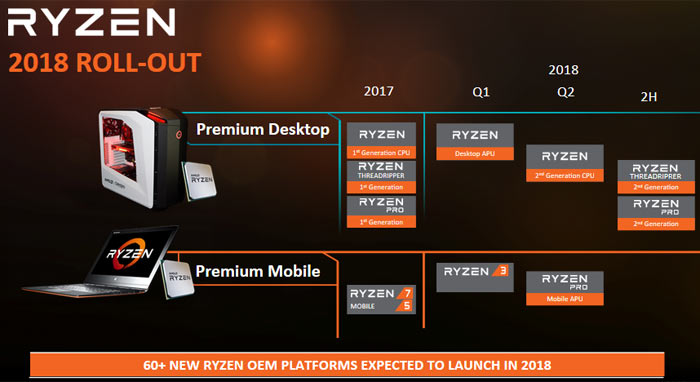 To start the presentation we heard mostly about Ryzen's great progress through 2017. The processor line is popular in a wide range of market segments and is continuing to gain share. Particularly positive signs for AMD come from its re-entry of the premium segment for PCs, breaking out of the mainstream segment (lower left pic), delivering better performance to consumers, boasting of leading edge performance, efficiency and the accompanying gratifying growth in ASPs. Of particular note is how AMD pushed CPU performance over a very wide range of price points, from $100 to $1000 (lower right pic).
| | |
| --- | --- |
| | |
Anderson said he was excited about the upcoming release of Ryzen 2000 series processors. He promised that AMD would bring out "an entire refresh of our Ryzen CPU stack through the course of this year". The new desktop parts will start to appear in April, as we already know. AMD's Computing and Graphics Business Group exec also talked about how excited he was with regard to the new Ryzen Mobile and Ryzen Pro Mobile processors and partnerships - with a significant expansion of such activities going forward.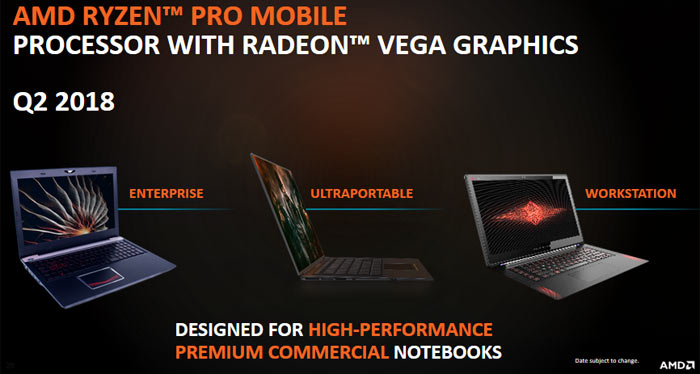 As a reminder, we have recently looked at some leaked AMD Ryzen 7 2000 benchmarks, which look impressive. Furthermore, less than a week ago, we witnessed a big leak of Ryzen 2000 Series presentation slides, which are worth looking over for highlights of the first batch of desktop processors on the way.