We are expecting AMD to launch its refreshed Ryzen processors in April, as long as everything goes to plan. As well as sharing the broad launch schedule, AMD used the platform of CES 2018 to affirm that the second generation high performance Ryzen CPUs would be; based upon 12nm Zen+ cores, boast higher clocks, and leverage Precision Boost 2 technology (as seen on recent U-series chips).

With the launch date so close it isn't a surprise to begin to witness some leaks. Korean site Hardware Battle (page now taken down but images already saved by VideoCardz) published some specs and benchmarks for an unspecified AMD Ryzen 7 2000 processor. The bundle of info included screenshots from SiSoft Sandra, AIDA64, FutureMark 3D FireStrike/Ultra, and Maxon Cinebench R15.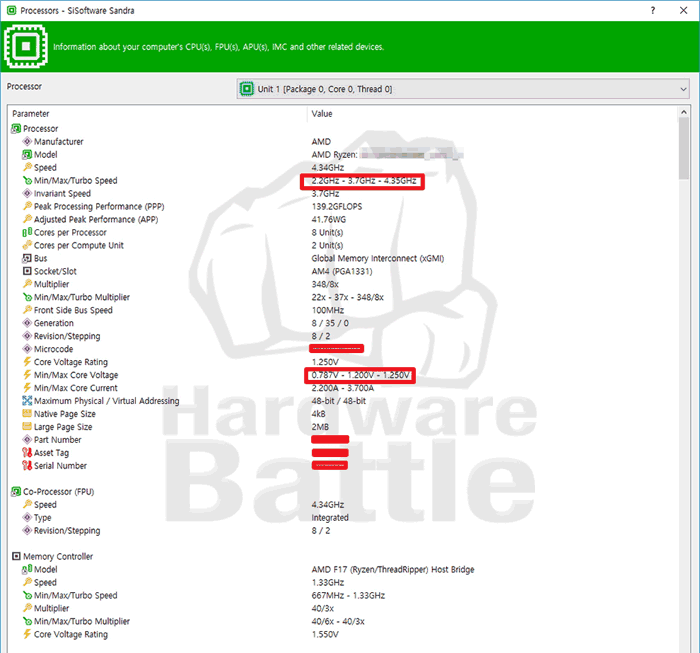 Starting with the system info captured by the Sandra screenshot (above); the upcoming AMD Ryzen 2000 series chip under test features a base clock speed of 3.7GHz 3which scales to 4.35GHz turbo. Remember the fastest current Ryzen 7 1000 series CPU offers base/turbo of 3.6/4.0GHz + XFR. Please flip back to our CES 2018 coverage to read about Precision Boost 2's workload-based approach - which should help give an additional 5-10 per cent performance boost.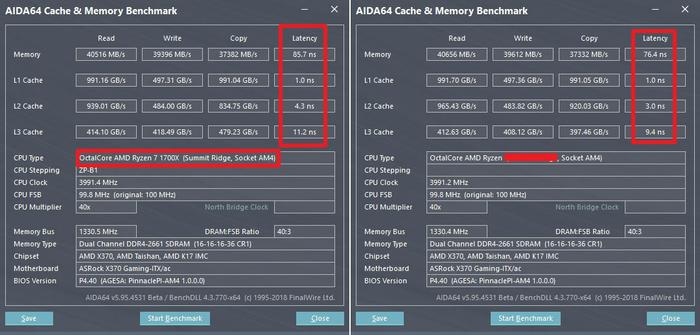 HWBattle published an AIDA64 image (above, click to zoom) purposely to highlight memory latency improvements in the new processors. Boxed out in red you can see the existing Ryzen 7 1700X running at the same CPU and memory clocks but with significantly improved Memory and cache latency.
Last but not least, we get to see some synthetic benchmarks courtesy of HWBattle. In 3DMark FireStrike tests the new processor is a step above any existing Ryzen 7 1000 model. Similar good but incremental improvements are seen in Cinebench and the Sandra arithmetic tests. Probably the most interesting result to my tired eyes is the Sandra Dhrystone Aggregated Integer Native test, as it shows a really big change. This result actually puts the new AMD processor at the top of the pile for once, against competition which includes AMD's own beefy Threadrippers and Intel's latest and greatest enthusiast CPUs.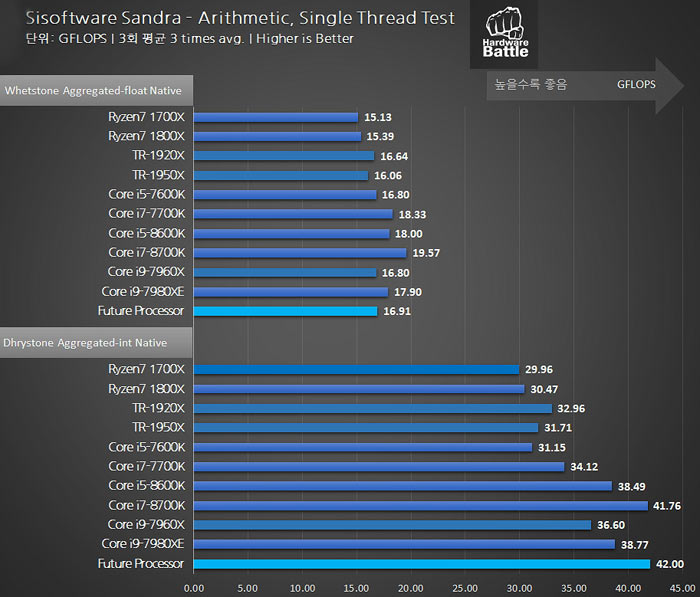 If you are already enjoying your computing experience with AMD's Ryzen processors, and you do find that the performance offered by the 2000 series is appealing, you should need little more than undertake a BIOS update before just swapping out the processor for a new one. Hopefully next month we will get the first Zen+ processors in the HEXUS labs to discover what benefits the 2000 series delivers in the real world.