AMD has launched its first embedded processors based upon its x86 Zen architecture. For markets including networking, storage and edge computing devices it proposes the use of the AMD EPYC Embedded 3000 series of processors (8 SKUs). For medical imaging, industrial systems, digital casino gaming and thin clients - which benefit from the built-in GPU tech - it puts the case for using the new AMD Ryzen Embedded V1000 processors (4 SKUs). AMD reckons its new EPYC embedded processors (Zen core) will be highly attractive as they deliver up to 2.7X more performance-per-dollar, meanwhile its Ryzen Embedded processors (Zen/Vega) deliver up to 3X more GPU performance.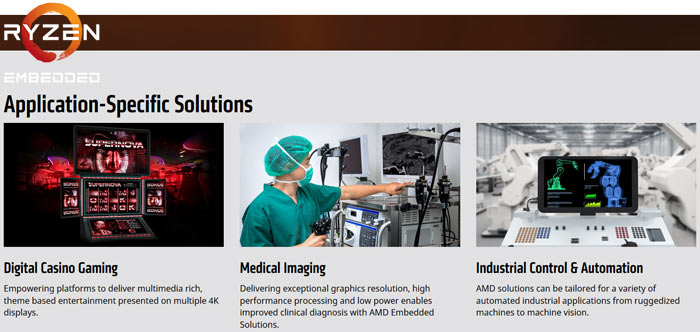 "AMD EPYC Embedded 3000 raises the bar in performance for next-generation network functions virtualization, software-defined networking and networked storage applications," explained AMD Datacentre and Embedded Solutions Business Group CVP and GM, Scott Aylor. "AMD Ryzen Embedded V1000 brings together the 'Zen' core architecture and 'Vega' graphics architecture to deliver brilliant graphics in a single chip that provides space and power savings for medical imaging, gaming and industrial systems. With these high-performance products, AMD is ushering in a new age for embedded processors."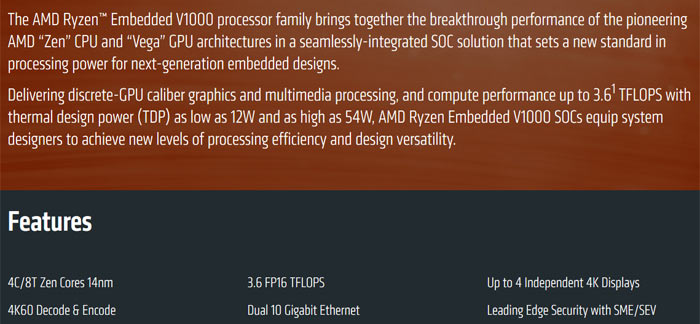 According to its in-house tests the AMD EPYC and Ryzen Embedded processors provide the following key improvements:
AMD EPYC Embedded 3000 processor portfolio

AMD Ryzen Embedded V1000 processor portfolio

Up to 2.7X more performance-per dollar than the competition
Up to 2X more connectivity than the competition
Enterprise-grade reliability, availability and serviceability (RAS) features

Up to 2X uplift in performance over previous generations
Up to 3X more GPU performance than the competition
Up to 46 percent more multi-threaded performance than the competition
Up to 26 percent smaller footprint than the competition for optimized board design
AMD is releasing EPYC Embedded 3000 processors in configurations ranging from 4 to 16 cores, with TDPs from 30W to 100W. Up to 32MB shared L3 cache with up to four independent memory channels are supported. They boast expansive, integrated I/O with support for up to 64 PCIe lanes and up to eight channels of 10GbE.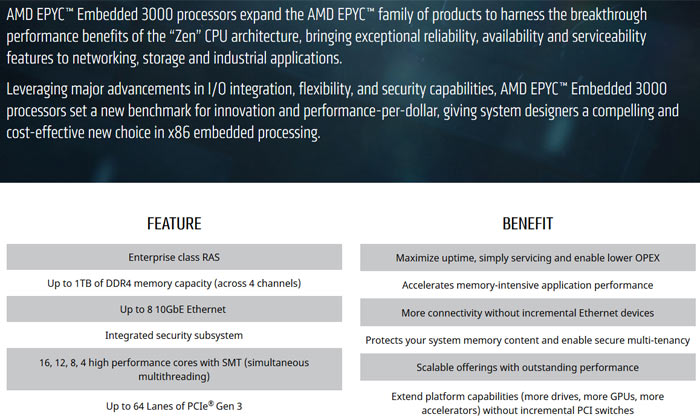 The AMD Ryzen Embedded V1000 processors deliver up to 4C/8T processing, and up to 11 GPU compute units, to achieve processing throughput as high as 3.6TFLOPS. These processors are up to 200 per cent faster than previous generations and can drive up to 4X 4K displays. Robust I/O capabilities that support up to 16 PCIe lanes, dual 10GbE and expansive USB options, including up to four USB 3.1/USB-C interconnects, with additional USB, SATA and NVMe support. TDPs range from 12W to 54W, offering scalability between performance and power saving requirements.
Already, AMD embedded customers have announced products based upon the new EPYC and Ryzen embedded processors. Above you can see one example, of the Esaote ultra-performance MyLab9 eXP ultrasound system for general medical imaging, women's healthcare and cardiovascular diagnostics, based on the Ryzen Embedded V1000 and targeting Q3 availability.