Today we have some new leaks / rumours about upcoming AMD Raven Ridge APU products. First of all we have product packaging and contents shots from Chinese social network Baidu, and secondly we have a set of purported benchmarks for six different SKUs (4x mobile and 2x desktop models) offering the combined might of Ryzen and Vega processing, which were shared by YouTuber Tum Apisak.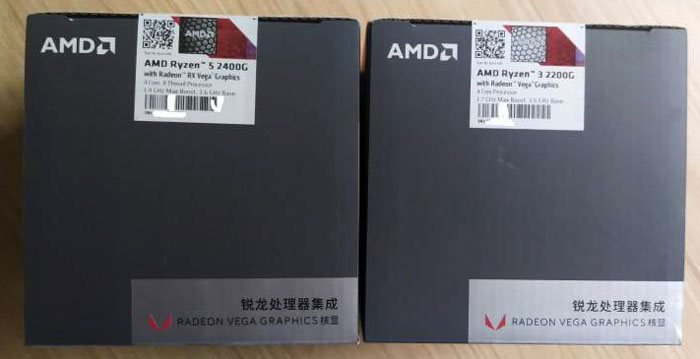 Starting with the product photos, above you can see what appear to be the two boxes for the Ryzen 3 2200G and Ryzen 5 2400G desktop APUs. We have published direct from AMD official news about these processors previously. At the CES 2018 there was an initial unveiling event with quite a few tech slides shared. A fortnight later AMD published more detailed specs for the Ryzen 3 2200G and Ryzen 5 2400G on dedicated online product pages.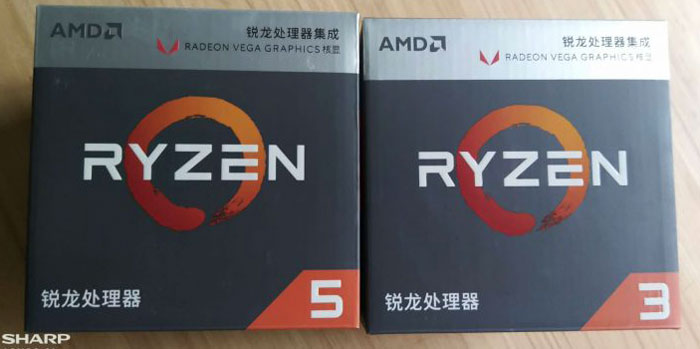 Further leaked photos reveal the actual processor peeking out from within the inner packaging and a photo of the bundled AMD Wraith Stealth cooler. You can head on over to eTeknix, linked above, for those extra pictures.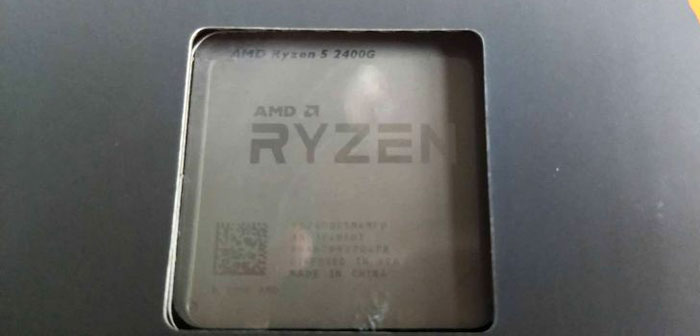 On pricing, you will likely recall that AMD has already told us MSRPs in US dollars. The Ryzen 3 2200G and Ryzen 5 2400G will be sold at $99 and $169 respectively, given adequate supply. It is reported that the Ryzen 5 2400G is being advertised at approx equivalent of US $180 in Singapore. That's not too far from MSRP at launch stage.
Benchmarks
Somehow YouTuber Tum Apisak has laid hands on all the desktop and mobile APUs on the way. On his channel there is a video which appears to show the YouTuber poking around benchmark comparisons featuring the entire Ryzen/Vega APU launch canon.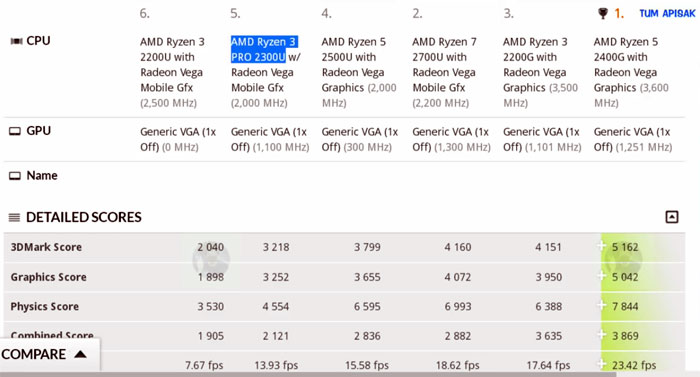 Using the performance present in 3DMark 11 the headline scores were as follows:
AMD Ryzen 5 2400G (desktop, 65W): 5162
AMD Ryzen 3 2200G (desktop, 65W): 4151
AMD Ryzen 7 2700U (mobile, 15W): 4160
AMD Ryzen 5 2500U (mobile, 15W): 3799
AMD Ryzen 3 2300U (mobile, 15W): 3212
AMD Ryzen 2200U (mobile, 15W): 2040
Enthusiasts will note that the AMD Ryzen 5 2400G's score is somewhere between the typical scores of desktop PCs equipped with an AMD Radeon RX 550 or 560 GPU.