AMD financials
AMD published its Q4 2017 and Full Year 2017 financial results last night. It beat analyst estimates with better than expected revenue and earnings for Q4. Specifically it brought in $1.48bn vs a predicted $1.41bn, and we saw 8 cents earning per share rather than the predicted 5 cents. However, stock fell as much as 7 per cent in afterhours trading before rebounding.

That revenue figure of $1.48 billion for the last quarter of 2017 was a 34 per cent improvement year-on-year ($1.11bn in Q4 2016). Strong sales of Radeon graphics processors and Ryzen processors were said be behind this success. A slight dampener overall was that revenue figure was actually down 10 per cent sequentially, mainly because of semi-custom SoC seasonality explained AMD. Another positive for the firm were gross margins – which at 35 per cent, were up 3 percentage points year-over-year and flat sequentially.
In a statement accompanying the results AMD CEO Dr Lisa Su said that 2017 was "a key inflection point". She highlighted that the company "delivered 25 percent annual revenue growth, expanded gross margin and achieved full-year profitability". More of the same is promised for 2018 as the company pushes on with its "next wave of high-performance products," asserted Su.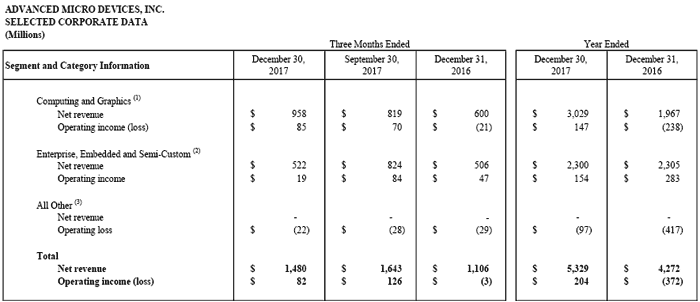 The company summed up recent performance and release highlights; progress in the data centre thanks to EPYC, the launch of Ryzen Mobile Processors with Radeon Vega graphics and their inclusion in laptops from Acer, HP, and Lenovo, the collaboration with Intel on Core-G processors, and the release of Radeon Software Adrenalin Edition.
For the near future AMD is readying its first 7nm Vega GPU and next gen Ryzen CPUs and APUs. 2018 will see the launch of 2nd Generation Ryzen Desktop CPUs based on the higher-performance 12nm 'Zen+' architecture. Meanwhile for business laptops AMD Ryzen PRO Mobile Processors with Radeon Vega Graphics will arrive.
Hardened Zen 2 design
AMD shared a PDF transcript of the conference call in the wake of the results. Su ended her call comments talking about security and the hot topics of Spectre and Meltdown. She reminded us of AMD's position that "Meltdown is not applicable to AMD processors", and that "Variant 2 of Spectre is difficult to exploit on AMD processors". Despite that, AMD is still deploying CPU microcode patches — in combination with OS updates ― to provide additional mitigation steps and working with ecosystem partners on Spectre Variant 1 mitigations.
"Longer-term, we have included changes in our future processor cores, starting with our 'Zen 2' design, to further address potential Spectre-like exploits," said the AMD CEO. She promised that AMD will continue to work closely with industry on this and any other security threats as they arise.