A fortnight ago at the CES 2018 we shared AMD's first reveal of its Ryzen desktop processors with Radeon Vega graphics. The AMD Ryzen 3 2200G and Ryzen 5 2400G APUs were sketched out with the bare essential specs of each processor shown on a slide. Now AMD has quietly updated its product pages to flesh out the information about these respective G-suffixed processors.

Above you can see a quick summary table highlighting some of the new information about the upcoming desktop APUs. We previously knew the CPU configuration (cores/threads, base/boost frequencies) so it's good to get some more light shone upon the GPU configuration.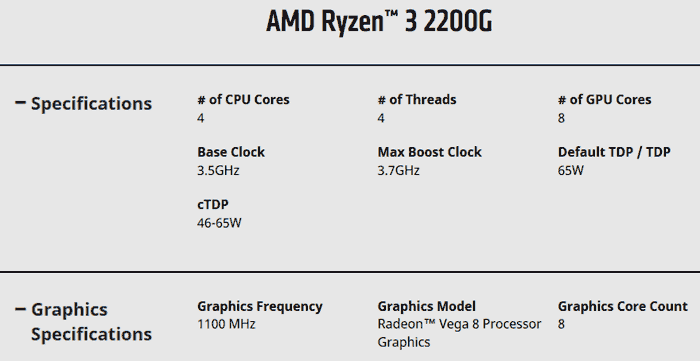 The Ryzen 3 2200G comes packing 8 CUs (512 stream processors) which run at a maximum clock of 1,100MHz. The beefier, and more expensive, Ryzen 5 2400G is equipped with 11 CUs (704 stream processors) with a maximum clock of 1,250MHz. According to the previous info from CES 2018, the Ryzen 5 2400G can achieve about 4,000 marks in 3DMark 11 Fire Strike (default).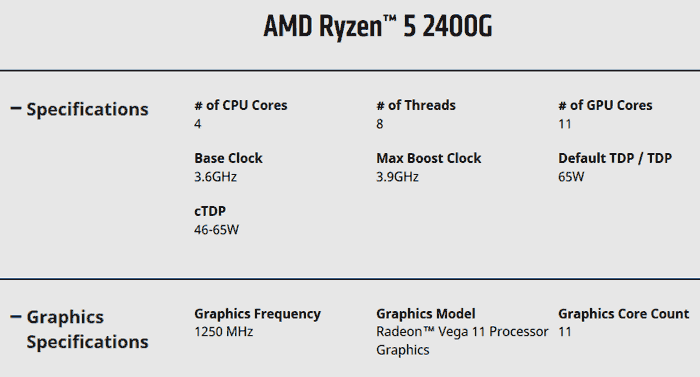 Whichever model of G-series APU appeals, it will have a default TDP of 65W (cTDP 46-65W). These socket AM4 processors support up to 64GB of dual-channel memory. AMD delivers the G-suffixed APUs with unlocked CPU base-clock multipliers.

The AMD Ryzen 3 2200G and Ryzen 5 2400G APUs will be launched on 12th Feb, priced at $99 and $169 respectively. AMD Wraith Stealth coolers are included in the retail box.