AMD used the eve of the Consumer Electronics Show in Las Vegas to brief members of the technical press on its high-level roadmap plans for 2018. We'll start off with what AMD plans to do with its CPU business. You can see what it plans for consumer graphics over here.
AMD's Jim Anderson indicated that, as expected, we would see Ryzen-based APUs appear on the desktop roadmap in Q1 whilst Ryzen 3 APUs would fill the premium mobile stack in the same period.
January 9, 2018 - Mobile Ryzen 3 2000U series
Going in chronological order, it is the Ryzen 3 mobile chips that are being released first - tomorrow, in fact, and they are based on the same technology that we have seen rolled out in the Ryzen 7 and Ryzen 5 mobile APUs back in October 2017. It is instructive to read that article to appreciate what AMD is bringing to the table in the 15W SoC space, primed for ultrathin laptops.

The already-available U-series chips are shown on the left. The new duo uses the same basic building blocks but reduce performance - and, more importantly for laptop makers, price - by shedding cores and frequency.
Ryzen 3 2300U drops the multithreading capability of its bigger brothers and reduces the RX Vega graphics complement from a possible 10 CUs (640 shaders) to six (384). This ought to mean that only basic gameplay is possible - eSports, for example.
Ryzen 3 2200U, meanwhile, is there to hit a price point above all else. Its dual-core, quad-thread architecture is basic but good enough for day-to-day work. The real cut, however, is to the integrated graphics, which drops down to just 192 shaders. AMD didn't announce the exact GPU frequency for these models, though one can expect it to be around 1,100MHz. When quizzed by us why AMD affected such a savage cut, the response was that, even in this state, the Ryzen 3 2200U can best its immediate Intel competitor.
We expect to see value-focussed ultrathin laptops take advantage of this new duo, with the aim of truly thin-and-light sub-£500 models now more readily achievable.
February 12, 2018 - Mobile Ryzen 5/3 2200G series

Up until this announcement, there has been no Ryzen-based desktop GPU with baked-in graphics - or APU in AMD-speak. That changes on February 12 as AMD rolls in two Ryzen chips imbued with RX Vega GPUs.
Differentiated from the CPU-only models by the suffix G, these two chips will fit into any AM4 motherboard, offering choice on how the mainstream enthusiast goes about their build.
Ryzen 5 2400G uses the same CPU engine as present-generation Ryzens, so the four-core, eight-thread part is very similar in make-up to the extant Ryzen 5 1500X chip, albeit a tad faster on base and boost speeds. Sharing the same 65W TDP as that processor, AMD also tacks on a custom variant of the RX Vega graphics comprised of 11 CU (704 shaders?) and uses system memory for its framebuffer, all for a smaller financial outlay than Ryzen 5 1500X.
AMD reckons this part scores around 4,000 marks in 3DMark 11's default Fire Strike Test, making it the most-powerful IGP ever, and easily trouncing the graphics performance from Intel's baked-in IGPs. No arguments there, but you should only expect 1080p performance at medium settings, though, of course, there is always the opportunity of adding a discrete card for proper gaming.
The Ryzen 3 2200G, meanwhile, drops the hyperthreading and appears to be direct replica of the Ryzen 3 1300X. Again, this time, there's built in graphics and a lower price of just $99. AMD believes these two 'Raven Ridge' APUs offer a combination of CPU and GPU performance that's hard to beat for the DIYer building a PC on a budget; the numbers would tend to agree.
April 2018 - Ryzen+

AMD is set to release a host of second-generation Ryzen desktop chips in April. They all move on to a more power-efficient 12nm manufacturing process - albeit the gate size doesn't change - and will be endowed with the same Precision Boost 2 smarts as seen on the U-series models.
From a technical standpoint these AM4 chips will better modulate their turbo frequency compared to first-generation models, because they use a workload-based approach rather than run turbo speeds based on the number of cores active - sometimes programs running on all cores may not stress the CPU that much yet frequency is reduced massively.
The point is that Precision Boost 2 is able to shape frequency based on how stringent the workload is, rather than go by a core-use table alone. A good primer of Precision Boost 2, written by AMD's Robert Hallock, can be found here.
One should therefore expect each corresponding model to run faster than its first-generation counterpart, to the tune of five-10 per cent, going by our understanding. Ryzen+ will be an incremental upgrade.
You will see these Ryzen+ processors productised as 2000-series - Ryzen 2800X, for example - and they will run on present 300-series chipsets with a BIOS update. Every current AM4 is supported, according to AMD, so these are, quite literally, drop-in upgrades. We expect to see first-generation models move out of the channel quickly, replaced by 2000-series.
Yet even though there is said to be perfect operability for X370 boards, AMD will also introduce an X470 chipset that is said to be 'optimsed' for these second-gen models. Using lower power and reworking the layout for better memory overclocking, X470 will simply replace X370. AMD informs us that all present AM4 chips will work on X470, too.
Immediate: Ryzen price cuts
AMD says that it wants to deliver the best bang for your buck in 2018. Effective immediately, it is reducing the SEP of many products, as detailed in the graphic below.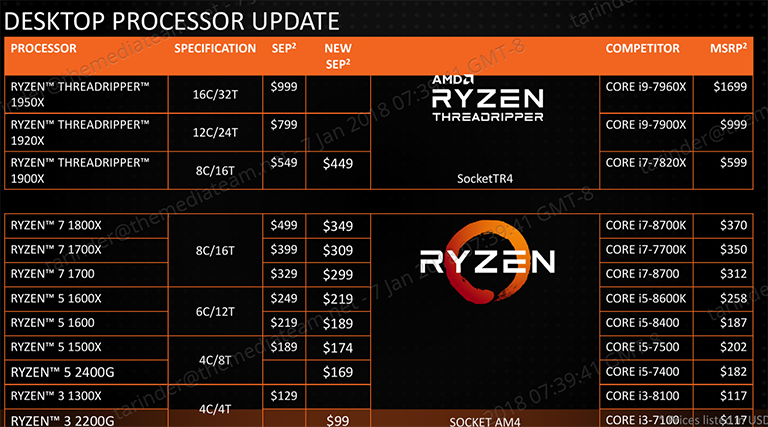 Ryzen Threadripper 1900X sees a $100 snip, the official SEP of the 1800X is decimated to $349, to better match up with Intel's premier mainstream chip, and the rest see a smaller reduction.
The key takeaways are the introduction of desktop APUs based on Ryzen/RX Vega technology, Ryzen+ being around the corner, and mobile APUs proliferating to lower ends of the market. What do you think? Is this a good-enough showing by AMD for 2018?