Qualcomm is pleased to announce that it has started to ship its 10nm Centriq 2400 server processors in commercial quantities. The corporation makes a couple of impressive claims for the Qualcomm Centriq 2400; it is said to be the world's first 10nm server processor, and the highest performance Arm-based server processor family ever designed. The new processor will be attractive to server makers and users due to its "exceptional throughput performance, performance-per-watt and performance-per-dollar," reckons Qualcomm.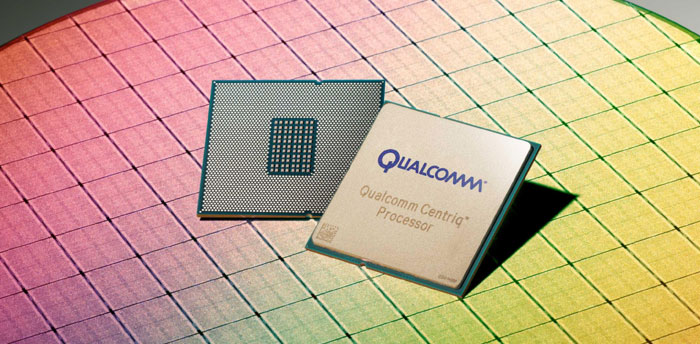 The Qualcomm Centriq 2400 processor is fabricated on Samsung's 10-nm FinFET process, with 18 billion transistors in an area of under 400mm2. Processors in the family contain up to 48 high-performance, 64-bit, single-thread cores, running at up to 2.3GHhz base / 2.6GHz boost frequencies. Qualcomm says that the cores are connected with a bi-directional segmented ring bus with 250GBps of aggregate bandwidth to avoid performance bottlenecks under full load. A shared L2 cache of 512KB is present for every core pairing, and there is 60MB of unified L3 cache distributed on the die. A Centriq 2400 series processor can support up to 6 channels of DDR4 memory, up to a max of 768GB of total DRAM capacity, with 32 PCIe Gen3 lanes and 6 PCIe controllers. This concentrated muscle consumes under 120 watts.

Compared with Intel's highest-performance Skylake processor, which Qualcomm pegs as the Intel Xeon Platinum 8180, the 48 core Centriq 2460 processor "offers greater than 4X better performance per dollar and up to 45% better performance per watt", according to the press release and presentation slides. Qualcomm is listing its top end 48 core part at $1995.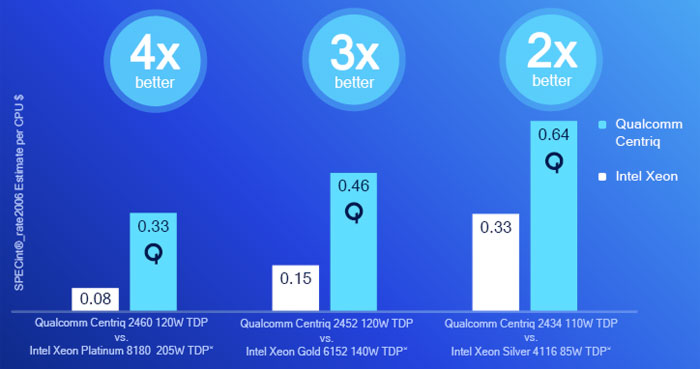 Qualcomm is targeting the Centriq 2400 series at cloud service providers such as Alibaba, LinkedIn, Cloudflare, Google, Hewlett Packard Enterprise, Microsoft Azure, and Samsung. The processors are said to be optimised for common cloud workloads and highly threaded cloud native applications. The chipmaker published a number of testimonials from these major players. For example, a Google exec said that he welcomed the arrival of the Centriq 2400 processors, describing the 64-bit Armv8-A architecture and ecosystem as "now a viable alternative for scale-out data centre designs."
The data centre silicon industry today is valued around $15-16 billion. By 2020, it's likely to be worth $20 billion, according to Mercury Research figures. Qualcomm wants to get a hold of some of that double-digit growth with its appealing, competitive designs.