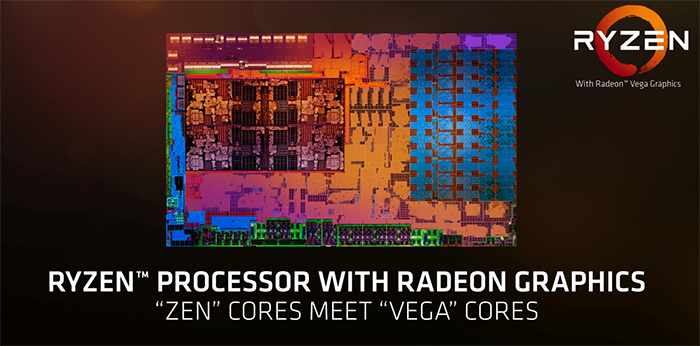 AMD is today announcing mobile processors aimed at the ultrathin, ultraportable laptop market. Known formally as the AMD Ryzen Processor with Radeon Vega Graphics, two models are being made available to laptop-makers for the busy holiday season.
AMD Ryzen 7 2700U and Ryzen 7 2500U are the chips in question, and their U-series suffix is no coincidence. AMD is targetting the same customers as Intel has done, very successfully, with its own U-series products, most recently upgraded to 8th Gen a couple of months ago.
This Ryzen pair, based on the same underlying Zen architecture as the desktop CPUs and server-optimised Epyc processors, has the same nominal 15W TDP as Intel's parts but can be configured between 9W and 25W by the laptop manufacturer, enabling them to fit into a wide range of chassis and markets.
AMD is particularly bullish about how well these 'Raven Ridge' APUs are able to perform, so let's take a closer look at what makes them tick and compare them against Intel's latest and greatest..
CPU Performance
AMD's Ryzen 7 U-series duo uses the same four core, eight-thread architecture topology as the desktop Ryzen 5 1500X and 1400. It is impressive that AMD can scale down the power to 15W, including the GPU in this instance, whilst keeping eight threads active.
The compromise, if we call it that, arrives in the form of a lower base speed. The 2700U is able to muster 2.2GHz across all eight threads whilst the 2500U drops this to 2.0GHz. The end result is still undeniably impressive from a low-power chip.
Putting some meat on the bones, AMD has provided CPU performance numbers from internal testing, plus comparison figures from both a 7th Gen and 8th Gen Core i7 U-series chip.
Intel has also moved over to a four-core, eight-thread architecture for its latest ultramobile chips, resulting in a 53 per cent increase from the previous generation. AMD says its Ryzen 7 2700U is able to hit up to 719 marks in Cinebench, representing a 44 per cent increase over the second-rung Intel processor, with both being run at 15W TDP. That score is actually better than a full-blown Core i5-7600K desktop chip, too.
Other benchmarks show it to be faster than the latest Intel chip, albeit not to the same degree as on Cinebench. Point is, Ryzen 7 U-series processors pack in some serious grunt in relation to their TDPs.
Part of the reason why AMD's scores are significantly higher than Intel's - given that the latter usually has performance hegemony on the desktop when comparing CPUs with identical cores and threads - is down to, AMD says, improvements made in its Precision Boost technology.
Now, the way in which the frequency drops as more cores are tasked to the application is smoother than on the desktop; it enables the processor to keep a higher frequency if, say, six threads are active. Of course, this doesn't help when the processor is under the pump and all threads are active, but a mid-load application ought to see better results.
GPU Performance
Moving on over to the GPU - which is connected to the CPU via AMD's in-house Infinity Fabric that also hooks up to the multimedia engine, display engine, dual-channel DDR4 controllers and I/O - AMD reckons the infusion of Vega technology offers hither-to unseen performance from a GPU contained within a 15W chip. This is still no substitute for a dedicated graphics card, however there's enough chutzpah to play the less visually demanding games at reasonable resolutions and settings.
Under the hood, assuming that AMD keeps to the same 64 shaders per CU, we can surmise that Ryzen 7 2700U packs in 640 shaders and the Ryzen 7 2500U a total of 512. AMD says the same Precision 2 Boost technology also helps govern the energy trade-off between the CPU and GPU cores, reducing one, quickly, when more performance is needed elsewhere.
Performance is important, but battery life is too. AMD has taken the opportunity of moving VP9 playback, used massively by Google, to a fixed-function block, thus doubling the battery longevity when compared to the previous-generation FX-9800P. In other scenarios such as H.264 playback and general usage, battery life is improved by 20-30 per cent, and at similar levels to an Intel-powered Ultrabook.
The Market
It's all well and good having excellent specifications and performance potential, but they need to be tied in with big-name laptop manufacturers and available on the shelf soon. Intel is excellent in this respect.
AMD informs us that three big-name guys will be ready with Ryzen 7 U-powered models in the coming weeks. HP, Lenovo and Acer have various models with either chip inside. The one that most catches our eye is the Lenovo IdeaPad 720S - a 1.14kg, 13.6mm-high laptop able to house either U-series processor. AMD says it has reduced the SoC package height by 24 per cent when compared to previous generations, ostensibly so that these chips can feature in ultraportable laptops.
The Ryzen 7 2700U and 2500U promise Intel U-series-beating performance from both the CPU and GPU, equivalent battery life, and likely a lower street price to laptop guys. AMD has always been strong on the pure performance front, so the question, as always, is will it be able to convince enough of the top-tier makers to build both desirable and mainstream laptops with its latest technology inside. Only time will tell.