The story of the relationship between Threadripper and Epyc CPUs gained another chapter last week. However AMD's James Prior stepped in this weekend to clear things up. In summary, though you can see four regular looking dies, just like an Epyc CPU, if you delid a Threadripper CPU - two dies work, other two have no path to operation. As Mr Prior summed up, the two non-operational dies are "basically rocks".
The Threadripper / Epyc relationship was originally exposed by well known OC expert der8auer, who delidded a Threadripper processor on his YouTube channel back in July. That escapade revealed what looked like four processor dies under the Threadripper lid.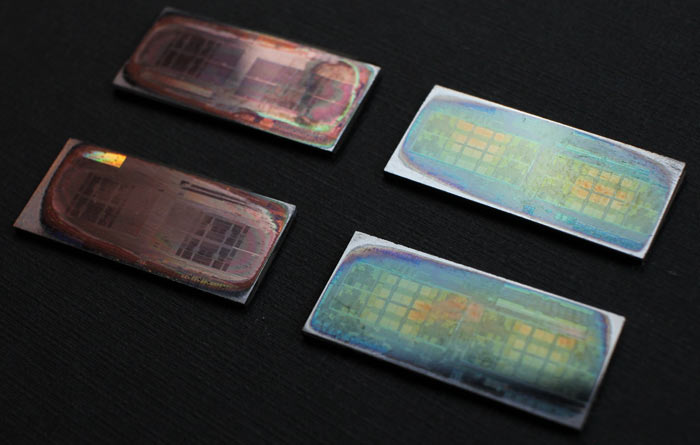 Chip surface was ground down to various levels, hence the variation in appearance
In further investigations late last week der8auer bought a new retail 1950X CPU (EUR 1000) and then ground the surface off the four dies to see the silicon structures inside (see above). He concluded that "there is no such thing as a dummy die" as all four looked the same and appeared to contain eight processor cores. Der8auer went on to guess that AMD would therefore one day release a 32 core Threadripper.
Since the extra two dies didn't look like 'dummy' dies or simple structural slabs of silicon, as had previously been indicated, AMD's dummy die assertion was brought into question. Thankfully, to address the confusion AMD's James Prior, Tweeted and responded to a query or two this weekend.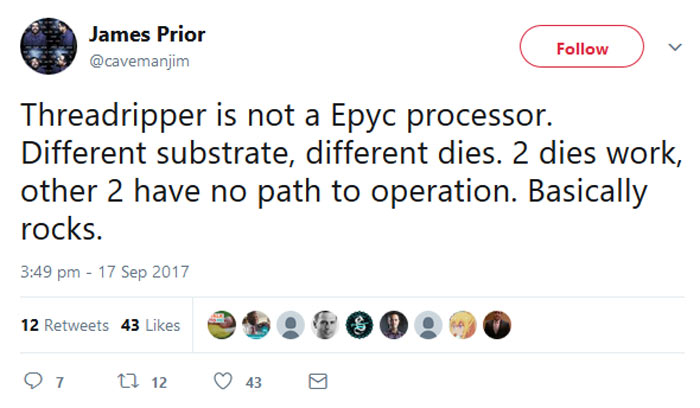 On Sunday Mr Prior Tweeted that "Threadripper is not a Epyc processor. Different substrate, different dies. 2 dies work, other 2 have no path to operation. Basically rocks." In response AnandTech's Ian Cutress replied with a flow diagram, and Prior agvreed that he was on the right track.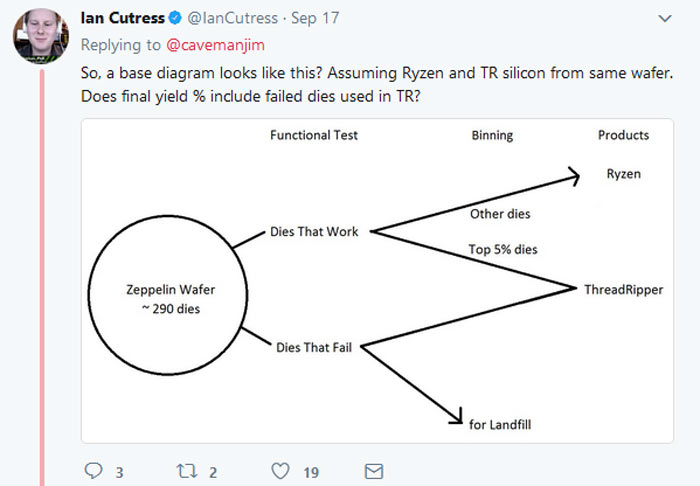 Further clarification came from Prior later in the day when he added that "Yes, exactly why they're not described as inactive, but dummy. Doesn't matter if they were dead, or active, they're not going to work." Inactive would hint at the ability to (re)activate the dies, so AMD carefully avoided describing them as such.