AMD launched its Ryzen PRO processors with the aim to do battle with Intel vPro, back at the end of June. The HEXUS editor looked over the range of AMD Ryzen processors for professional customers at that time; their specifications, strengths, features, and so on. Now these processors have been officially launched by AMD and it is already claiming "exceptional support from world's largest commercial PC suppliers".
The key needs of business and enterprise that AMD hopes to address with the Ryzen PRO range of CPUs are those of reliability, security, and performance in modern compute-intensive enterprise-focused workloads. "Today's business PC users require more processing power than ever before to run increasingly demanding applications, to ensure they can multi-task without disruption, and to help protect against security threats," said Jim Anderson, SVP and general manager, Computing and Graphics Group, AMD. "Ryzen PRO is designed to address these needs".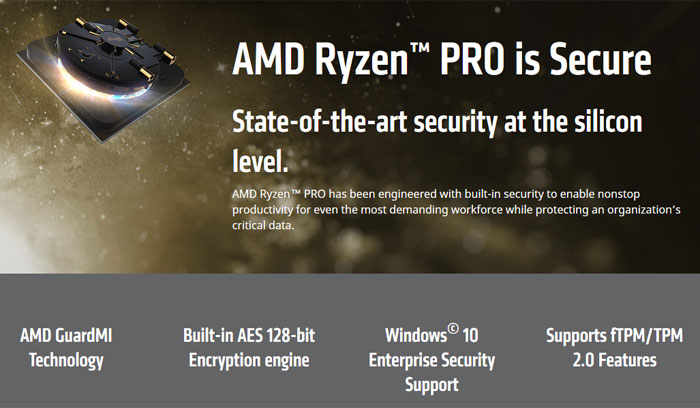 AMD is happy to report that the three major commercial PC suppliers, namely Dell, HP, and Lenovo, have all got on board with AMD Ryzen PRO and these professional CPUs will be integrated into various commercially-focused desktop solutions in the coming weeks. Each of these industry giants provided inspiring testimonials to the use of Ryzen PRO CPUs in iconic hardware ranges such as OptiPlex, EliteDesk, and ThinkCentre PC desktops.

In its press release AMD also talked about various use-cases of new Ryzen PRO CPUs for business and enterprise. These examples were backed up by YouTube videos talking about AMD Ryzen PRO based machines deployed in; an engineering training business, in a smart buildings business, in advanced healthcare, in a visual-effects and animation business, and in a 4K-3D-VR solutions business.
Ryzen PRO mobile processors are scheduled for launch in the first half of 2018.