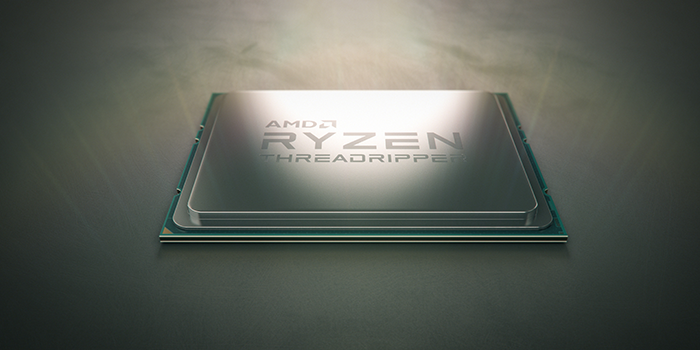 AMD brought some serious CPU horsepower to the table when it announced a trio of Ryzen Threadripper CPUs earlier in the month. At that time, however, only the 1950X and 1920X were available. Understandably so, as AMD wanted to hit Intel with the heavy guns first.
As a quick recap, here is how the trio of high-end desktop chips compare against one another and a whole host of other Ryzen processors.
AMD Ryzen product range

Model

Cores / Threads

TDP

L3 Cache

Base Clock

Turbo Clock

XFR

DDR4 Support

Package

Price

AMD Ryzen Threadripper
Ryzen Threadripper 1950X

16 / 32

180W

32MB

3.4GHz

4.0GHz

200MHz

Quad 2666

TR4

$999

Ryzen Threadripper 1920X

12 / 24

180W

32MB

3.5GHz

4.0GHz

200MHz

Quad 2666

TR4

$799

Ryzen Threadripper 1900X

8 / 16

180W

16MB

3.8GHz

4.0GHz

200MHz

Quad 2666

TR4

$549

AMD Ryzen 7
Ryzen 7 1800X

8 / 16

95W

16MB

3.6GHz

4.0GHz

100MHz

Dual 2666

AM4

$499

Ryzen 7 1700X

8 / 16

95W

16MB

3.4GHz

3.8GHz

100MHz

Dual 2666

AM4

$399

Ryzen 7 1700

8 / 16

65W

16MB

3.0GHz

3.7GHz

50MHz

Dual 2666

AM4

$329

AMD Ryzen 5
Ryzen 5 1600X

6 / 12

95W

16MB

3.6GHz

4.0GHz

100MHz

Dual 2666

AM4

$249

Ryzen 5 1600

6 / 12

65W

16MB

3.2GHz

3.6GHz

100MHz

Dual 2666

AM4

$219

Ryzen 5 1500X

4 / 8

65W

16MB

3.5GHz

3.7GHz

200MHz

Dual 2666

AM4

$189

Ryzen 5 1400

4 / 8

65W

8MB

3.2GHz

3.4GHz

50MHz

Dual 2666

AM4

$169

AMD Ryzen 3
Ryzen 3 1300X

4 / 4

65W

8MB

3.5GHz

3.7GHz

200MHz

Dual 2666

AM4

$129

Ryzen 3 1200

4 / 4

65W

8MB

3.1GHz

3.4GHz

50MHz

Dual 2666

AM4

$109
We mention Threadripper again as today sees the full retail availability of the eight-core, 16-thread 1900X model, priced at $549 (£499?). Some may argue that there is little point or need for this chip because it isn't a whole lot better than the widely available Ryzen 7 1800X from a performance perspective, especially as that chip is now available for $459 (£439) right now.
It seems as if AMD is aware of this potential positioning quandary and has sought to delineate the key performance and platform differences on a press conference call yesterday.
Threadripper 1900X is great for productivity, not so great at gaming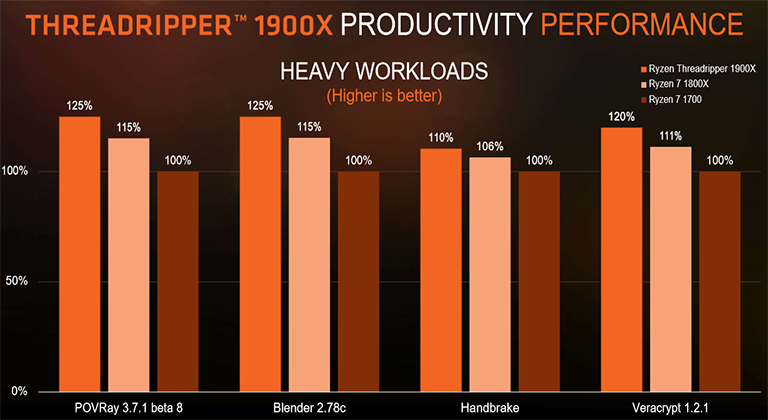 The 1900X shares familial characteristics with other Threadripper CPUs, and this means that AMD chooses the best-performing five per cent of wafers and allocates them to the high-end desktop platform. A direct consequence, the company says, is being able to run the chips at higher speeds, with the 1900X operating at 3.9GHz all-core turbo clock, which is obviously higher than Ryzen 7 1800X.
That being the case, AMD's own numbers show it to be faster at heavily-loaded applications than the AM4 alternative. Of course, one could argue that ramping up full-socket processor power from 95W to 180W enables higher speeds through increased voltage whilst having access to quad-channel memory certainly doesn't hurt performance. At stock, we're looking at 10 per cent advantage.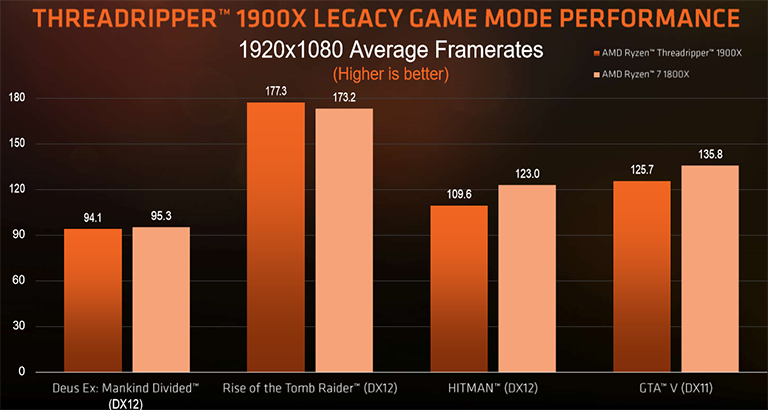 However, it's not all good news for Threadripper 1900X. Having to run communications across two diagonal dies doesn't do it any favours when gaming, because the clockspeed and memory bandwidth advantage is wiped out when we look at lowish-resolution gaming. The Ryzen 7 1800X is faster in three of AMD's own benchmarks. Putting that into context, Intel's Core series still tends to be better at gaming than any Ryzen, even as we increase the resolution to a more GPU-taxing 2,560x1,440.
Threadripper is a platform story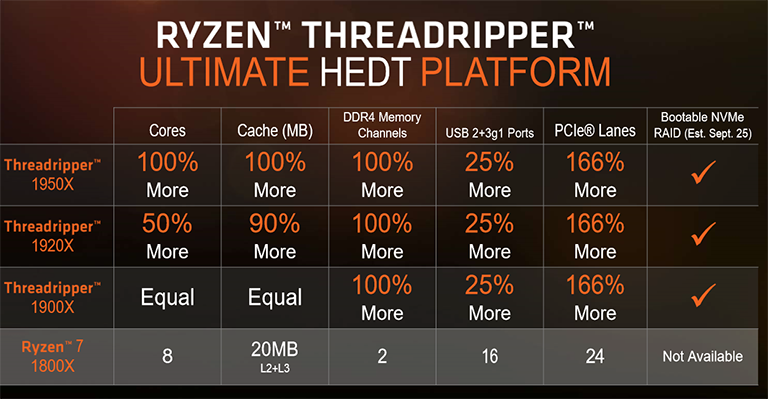 We could have intuited the above without recoursing to benchmarks, and we already know about the surfeit of memory channels, USB and PCIe lanes on the X399 platform. What made the call newsworthy was the announcement that AMD will be bringing in bootable NVMe RAID for the X399 chipset on September 25, to be made available via a BIOS update across all compatible motherboards.
The NVMe RAID driver will offer bootable RAID 0, 1 and 10 modes for up to ten devices, thus leveraging that inherent PCIe goodness in the chipset. Unlike Intel whose latest Skylake-X Virtual RAID (VROC, X299 platform) is solely software driven and based on the CPU and only available at extra cost, AMD is going down the free, SSD vendor-agnostic route with the X399 implementation. It is unclear at this juncture whether AMD will run RAID on the CPU, a la Intel, or has specific hardware baked into the chipset.
It doesn't make much sense to consider the Ryzen Threadripper 1900X if you're solely going to play games or indulge in some lightly-threaded work; the Ryzen 7 1800X is a better, cheaper bet. AMD pushes the 1900X as the entry point into massive platform-wide connectivity and easy upgrade to more cores and threads as budgets permit.
Adding in NVMe RAID on X399 appears to be a move to further differentiate it from the Ryzen 7 line, and AMD representatives were adamant that this feature won't find a home on the performance X370 chipset any time soon.
We'll be doing our own Ryzen Threadripper 1900X testing in due course, so stay tuned for the review.