AMD has released eight new APUs and three CPUs to retail, says an Anandtech report. Targeted at delivering "unlocked performance and efficiency for entry-level PCs," this processor launch consists of the 'Bristol Ridge' APUs previously seen in some systems from the likes of HP, and Athlon processors - both for AM4 motherboards.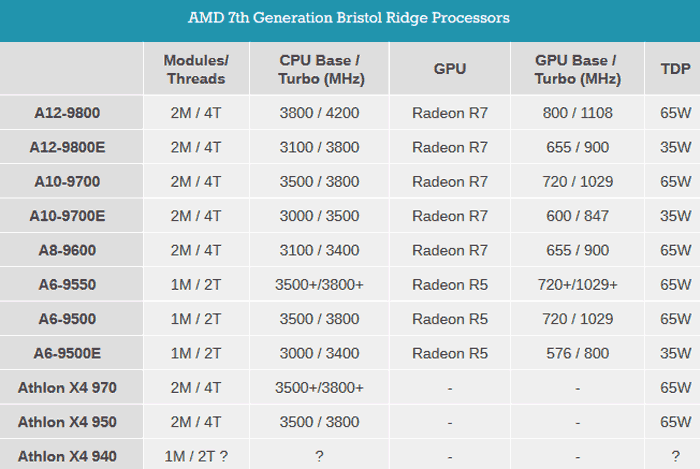 The above table provides a good overview of what is to be made available shortly. You can see that the AMD A12-9800 is at the top of the product stack and AMD shows this processor as a component that is neck and neck with the elusive Intel Pentium G4560 in general computing performance (PCMark 8 Home) but hugely faster in 3D acceleration. See the comparison below.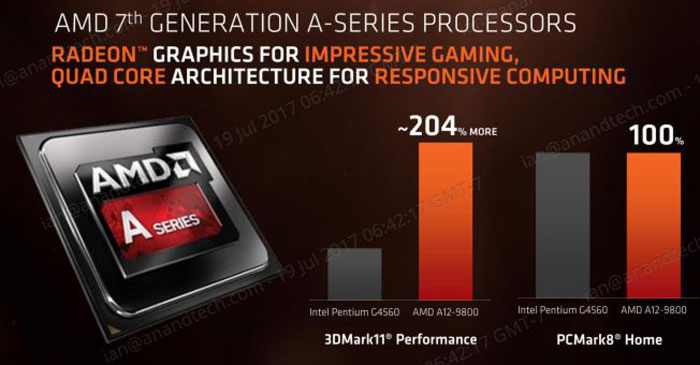 Pricing hasn't been revealed at the time of writing but Anandtech expects all the chips to be priced within the $50 to $110 range. Furthermore, some models will be shipped with AMD's 65W and 95W near-silent coolers says the source.
More interested in Raven Ridge?
Raven Ridge APUs - fusing Zen CPU cores and Vega graphics in a neat competitively priced SoC, are expected to debut in desktops around Xmas / New Year. A couple of hours ago VideoCardz received an interesting tip in the form of an Ashes of the Singularity benchmark result. See below.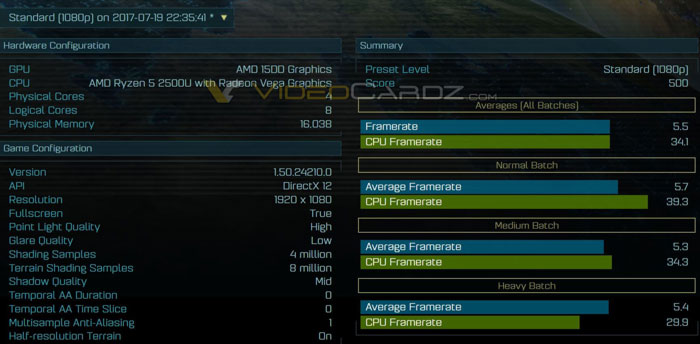 Supposedly under test in this modern RTS game is the previously unseen "AMD Ryzen 5 2500U with Radeon Vega graphics". You can see in the hardware config list that this APU has a 4C/8T CPU and 'AMD 1500 Graphics'. The tested system came packing 16GB of RAM.
VideoCardz notes that this Ryzen APU's 'U' suffix might mark it out as a mobile processor, so it won't be as powerful as the Raven Ridge APU products released for desktops. It reckons the AMD Ryzen 5 2500U might be designed for 'multimedia laptops', rather than gaming.