As you will have already seen, AMD released its Epyc 7000 range of server processors last night. AMD said many great things about the capabilities of these processors and proclaimed that "a new era in the data centre" had begun. Headline qualities of the AMD Epyc processors include the offer of lots of cores, lots of threads, lots of bandwidth, and lots of IO, with greater density, and energy efficiency, at a competitive price. However, in the lucrative server business AMD is starting almost from scratch, as Intel has a near monopoly in x86 server processors.
So AMD needs some big names in server makers to back it up and some computer industry giants to give compelling testimonials about the capabilities and value of Epyc processors. Luckily AMD appears to have done its groundwork well.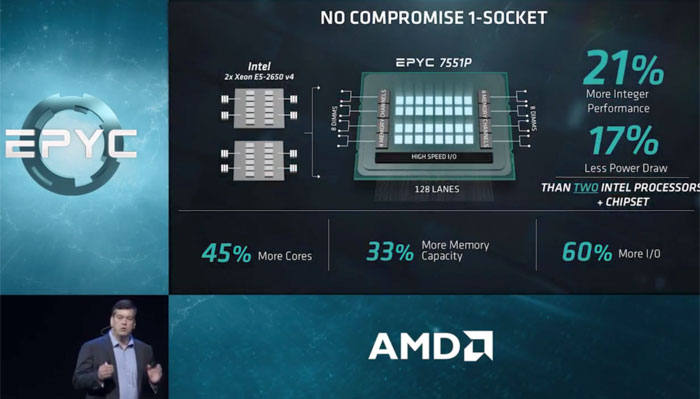 In the server maker business Dell EMC is one of the biggest players and in a new blog post confirms that "the World's Bestselling Servers" will be available with AMD Epyc processors. According to Dell EMC the new AMD enterprise processors are a very attractive proposition, "With the high PCIe lane count (128 lanes) of the new AMD EPYC and its ability to support up to 24 NVMe devices out of a single processor, we now offer some truly unique server innovation in software defined storage and big data/data analytics at an outstanding TCO."
Dell EMC PowerEdge servers with AMD Epyc processors will become available in H2 2017.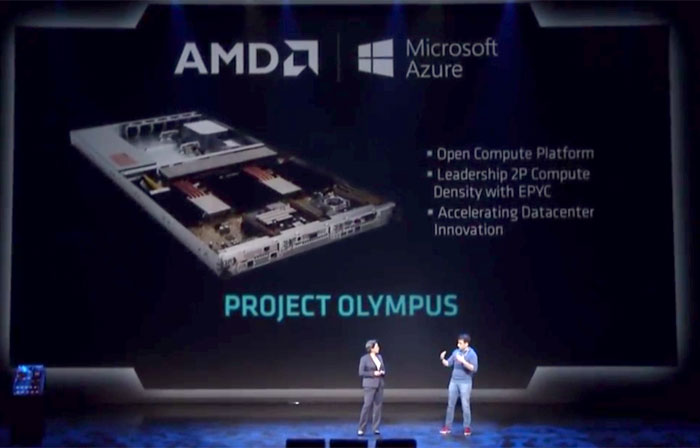 In its launch presentation last night AMD brought on stage other server making partners such as HPE, Lenovo and Supermicro. About its new server products with AMD Epyc HPE said "The EPYC processor represents a paradigm shift in computing and will usher in a new era for the IT ecosystem." The AMD Epyc processors will debut in HPE Cloudline CL3150 servers later in the year. Additionally HEXUS has just received a press release from TYAN about its 2U 24 All-Flash NVMe Storage Server and NVMe-Focused Motherboards based upon AMD Epyc.
For business confidence it's good to see the high quality testimonials that AMD Epyc processor powered systems are receiving. You can see a summary of several such statements from industry heavyweights above. For further details AMD has published individual testimonial videos from the likes of Microsoft, Samsung, Baidu and 1&1.