Earlier this week we learned that Dell would be an exclusive OEM partner of AMD for Ryzen Threadripper systems until the year is out. Alienware showed off its Threadripper packing Area-51 gaming PC at E3 2017. We were told that this high end gaming system would be released in the UK in early September. With the launch of such systems, and the processors upon which they are based, due so shortly it is perhaps not so surprising to see benchmarks start to leak.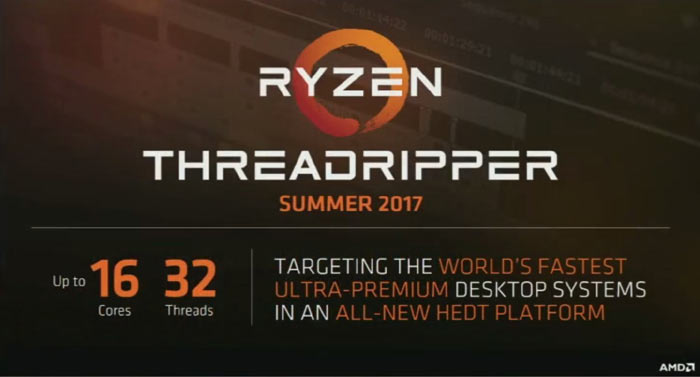 If you head on over to the Geekbench results browser site you can nose though what appear to be systems specs and benchmark scores for a system packing a top-end AMD Ryzen Threadripper processor, the 1950X. The benchmark info states that this 16C/32T chip is running at a base clock of 3.39GHz.
This AMD Threadripper-based system was tested just yesterday. Other key components were; an ASRock X399 Professional Gaming motherboard, plus 16GB of RAM. The system ran Windows 10 64-bit and was tested using Geekbench 4.1.0.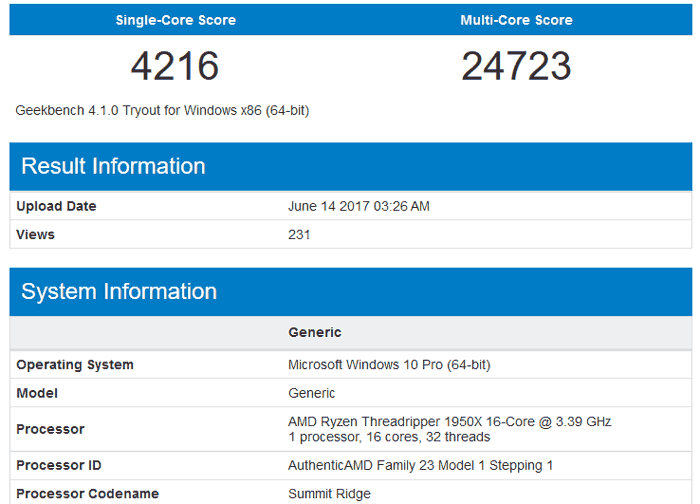 To give you a quick feel of how these Geekbench scores compare:
This AMD Ryzen Threadripper 1950X achieves 4216/24723 in single-/multi-core scores
An 8C/16T AMD Ryzen 7 1800X @ 3.60GHz scores 4208/23188
And a 4C/8T Intel Core i7-7700K @ 4.20GHz scores 5806/19942
It's important to remember that these Threadripper Geekbench scores are early figures from a processor / system that is yet to go through a number of optimisations. Both AMD and its motherboard making partners will likely be working furiously at getting the best possible stable performance from these many-core processors ahead of launch in a few weeks.
On the topic of the precise launch time, while we know Dell/Alienware is readying systems for September, rumours suggest that AMD will launch Threadripper processors around 10th August.