DynamIQ Technology, too
We recently announced the ARM DynamIQ processor technology – enabling new levels of performance, efficiency, scalability and responsiveness.  It is a new CPU cluster architecture and memory hierarchy that brings with it a new hardware design paradigm for wider scalability. It also delivers new features that can improve AI through machine learning (ML) algorithm performance increases of 50x over the next 3-5 years, through a combination of software and hardware.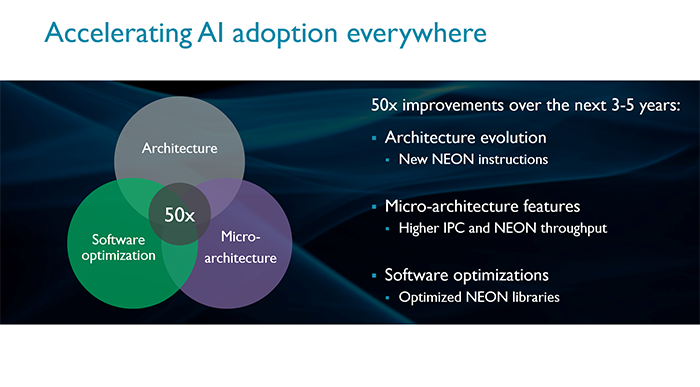 Increased performance for AI workloads a key focus for current and future ARM IP
DynamIQ represents also one of the biggest steps since the introduction of the multi-processor design that has brought dual- and quad-cores in the mobile industry.  With DynamIQ, a single cluster now can contain up to 8 processors, potentially with different physical design characteristics (power, frequency, area) and independent voltage and power rails for individual CPUs or groups of cores. The flexibility and scalability allow silicon vendors to target a wide range of markets including smartphones, increasingly autonomous cars, servers and network infrastructure, home automation, smarter DTVs, and more. There is a great write-up with more details on DynamIQ that you can find here.
DynamIQ big.LITTLE – the Cortex-A75 and Cortex-A55 combined
Cortex-A75 delivers great performance at market-leading efficiency.  However, there are many applications that don't require the performance of a high-performance processor – and even in high-performance applications, the highest CPU performance levels are sometimes only required for only about 10% of the time. This is a great fit for big.LITTLE technology to save power in the high hundreds of milliwatts, extending battery life and enabling the big cores to go even faster because the LITTLE cores handle the low-level work.
Cortex-A55, ARM's most efficient LITTLE processor to date, provides exactly that.  It's a follow-on to the successful Cortex-A53. The Cortex-A55 is the ideal LITTLE companion to the Cortex-A75. DynamIQ enables combinations like 1+7 with great area efficiency, which will enable a great upgrade path for mid-range devices.
For more details, make sure to also check out Govind's blogs DynamIQ big.LITTLE and the Cortex-A55 launch blog.
Cortex-A75 from the edge to the cloud – and nearly everywhere in between
Cortex-A75 is widely applicable across markets.  Many of the features built into the processor and the DynamIQ cluster extend far beyond the mobile and consumer use cases. We expect Cortex-A75 to be used in applications like automotive or large-scale infrastructure systems. For infrastructure specifically, features like cache stashing, atomic transactions between agents, cache way allocation and prioritization, plus advanced RAS capabilities make Cortex-A75 an ideal fit where its efficiency leads to higher compute density.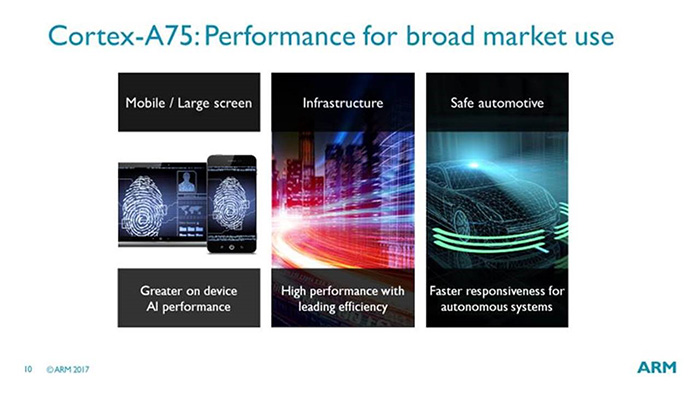 Cortex-A75 delivers performance across multiple markets – from Mobile, to infrastructure to automotive
The foundation for innovation only imagined
The combination of the Cortex-A75, the Cortex-A55, and the capabilities of DynamIQ brings unsurpassed flexibility, performance and efficiency – a lethal combination for richer, more intelligent experiences across all markets. This is the start of discovery and differentiation at a whole new level.
Learn more and kickstart your next-generation device: visit my detailed blog about Cortex-A75 on the ARM Connected Community and our technical specification pages for the Cortex-A75, the Cortex-A55, and DynamIQ.