AMD used its financial analyst day yesterday not just to share dry financial information but as a platform to talk about its exciting upcoming products for consumers, and data centres. A lot of information was shared about a diverse range of products so this particular article will be concerned about AMD's compute products - the CPUs and APUs.
Ryzen CPUs have seen "strong adoption" figures, according to Jim Anderson, SVP & GM at AMD Compute and Graphics business group, promising that what we've seen is just the start. "Our upcoming AMD Ryzen processor lineup builds on the foundation we have set to drive our further expansion into the high-performance desktop, premium consumer notebook, and commercial markets."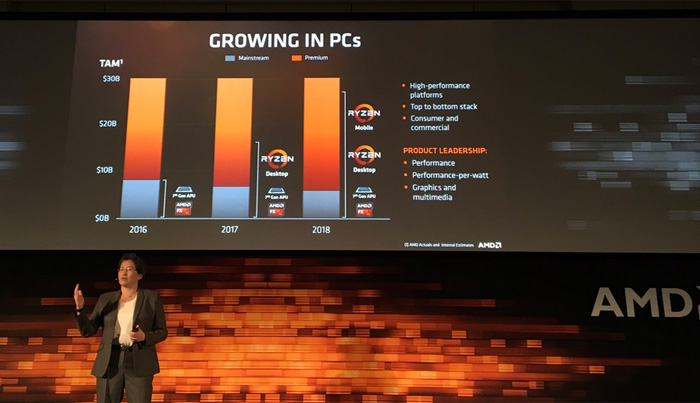 AMD will be expanding its Ryzen offerings from both sides. At the top end it will introduce Ryzen Threadripper. As we have previously discovered via various leaks these Zen-based CPUs will offer up to 16-cores and 32-threads with a new platform with expanded memory and I/O bandwidth, designed for the High-End Desktop (HEDT) market. For product availability we are told Threadripper is scheduled for 'summer 2017'.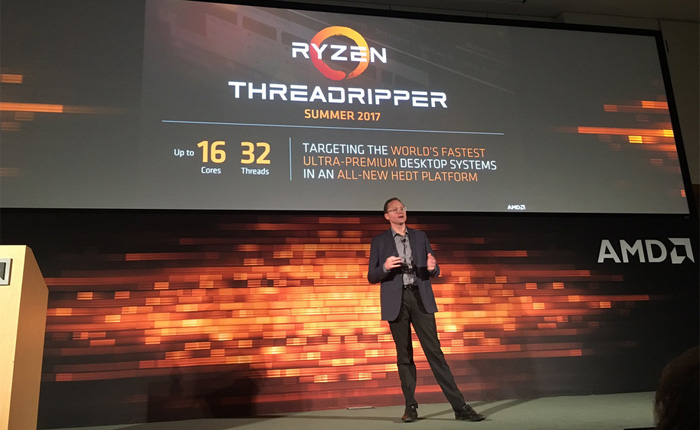 At the other end of the market Ryzen 3 CPUs are scheduled for availability in Q3 2017. Meanwhile the momentum of Ryzen 5 and 7 CPUs will continue thanks in part to Ryzen-powered Windows desktop PCs from the 'big 5' OEMs coming to stores from Q2 2017.
Some information was shared about upcoming Ryzen Mobile APUs. These will mix Zen 4C/8T compute cores with high performance Vega graphics. AMD claims an "expected 50 percent increase in CPU performance and over 40 percent better graphics performance, at half the power of its previous generation." Consumers will be able to find premium 2-in-1s, ultraportables, and gaming form factors packing Ryzen Mobile APUs from H2 this year.
Looking at its business-segment interests, AMD will launch both Ryzen PRO desktop solutions, and Ryzen PRO mobile in H2 2017 and H1 2018 respectively. Of course these processors mix the powerful multi-threaded performance you expect from a Zen CPU with "enterprise-class support and top-to-bottom manageability".
Naples becomes EPYC
AMD talked about the upcoming launch of EPYC processors, previously codenamed 'Naples'. In essence EPYC promises "high core count, superior memory bandwidth, and unparalleled support for high-speed input/output channels in a single chip." EPYC processors sporting up to 32 physical cores will launch in June.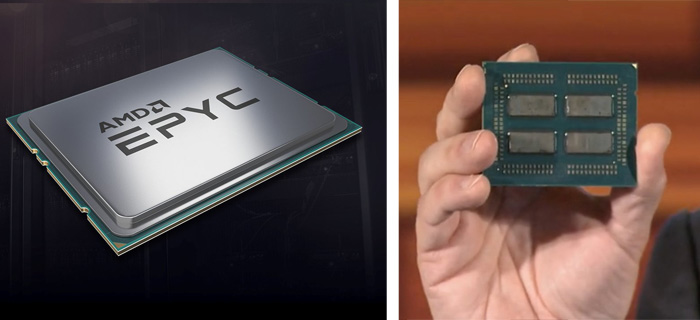 In demonstrations last night AMD showed a single EPYC processor based system "exceeding the performance of a competitive mid-range, two-socket / two-processor platform in a head-to-head". In comparative stats AMD EPYC offers "45 per cent more cores, 60 per cent more input/output capacity (I/O), and 122 per cent more memory bandwidth," than its top competitor, asserts AMD.
EPYC Features
A highly scalable, 32-core System-on-a-chip (SoC) design, with support for two high-performance threads per core
Industry-leading memory bandwidth, with 8 channels of memory per EPYC device. In a dual-socket server, support for up to 32 DIMMS of DDR4 on 16 memory channels, delivering up to 4 terabytes of total memory capacity
Complete SoC with fully integrated, high-speed I/O supporting 128 lanes of PCIe 3, negating the need for a separate chip-set
Highly-optimized cache structure for high-performance, energy-efficient computing
Infinity Fabric coherent interconnect for two EPYC CPUs in a dual-socket system
Dedicated security hardware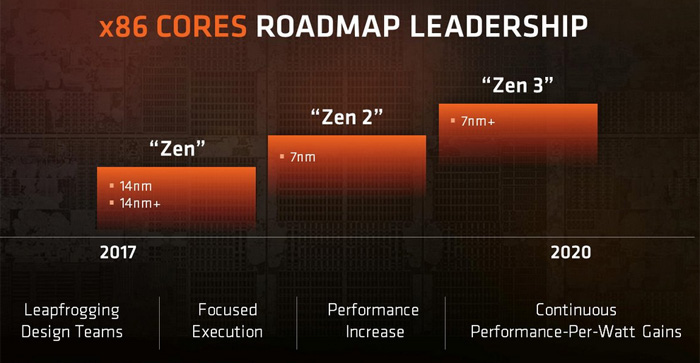 Future CPUs
On the road ahead AMD promises to continue with refinements to the Zen architecture and and manufacturing process adoption. After Zen we will see "the 7nm 'Zen 2' and 'Zen 3' CPU architectures that combine smarter design with process technology advances and are expected to enable significant performance and performance-per-watt gains," said AMD. Upcoming designs will leverage AMD Infinity Fabric technology to efficiently create highly-scalable SoCs and high performance platforms.