According to Taiwanese PC industry insiders Intel is responding to AMD Ryzen pressure by accelerating its processor and platform release schedule. Evidence of a renewed vigour is provided by the source which says that the Basin Falls platform will arrive in time for Computex (three months earlier than previously indicated), and Coffee Lake products will arrive in summer 2017, rather than early next year.

Considering the industry rumours chronologically, DigiTimes says that Intel will unveil its Basin Falls platform at Computex 2017. This key PC tech show takes place spanning the end of May and the beginning of June. Basin Falls consists of the Skylake-X and Kaby Lake-X processors, and the X299 chipset. According to the source report Skylake X will consist of three 140W processors with 6-, 8- and 10-core architectures, followed up in December by a 12-core processor.
A little later, at the E3 gaming show, also in June, Intel will actually launch the Basin Falls platform, says the source. These dates are approximately three months earlier than Intel had previously signalled that the launch would go ahead.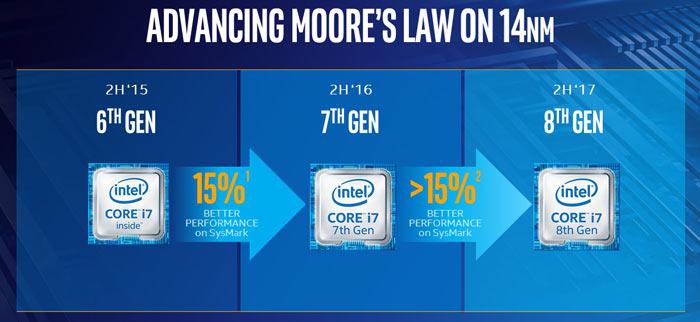 Intel's 14nm Coffee Lake architecture is also said to be moving forward with regard to its scheduled release date. Rather than adhere to its planned January 2018 launch for Coffee Lake Intel is going to push for an August launch of the new processor series. The rollout will begin in August, say the Taiwanese industry sources, with several K-series Core i7/i5/i3 processors and accompanying Z370 chipsets. In the months following Intel will roll out more CPUs plus chipsets such as H370, B360 and H310 versions.
Offered as evidence for the accelerated rollout the DigiTimes report says Intel has bolstered its manufacturing capacity and capability with five new EUV machine sets from ASML.
Of course AMD has plans to move ahead with faster and more powerful Ryzen chips. The previously rumoured 16-core Ryzen processor(s) and X399 platform will launch to eager enthusiasts in Q3 this year, according to the Taiwanese report.