HEXUS published a double review yesterday, featuring the AMD Ryzen 5 1500X and Ryzen 5 1600X (14nm Zen) processors. We looked at the conventional air-cooled overclocking ability of these chips and observed that the limitations of air cooling meant that neither chip could go beyond the 4.0 to 4.2GHz range, providing rather limited OC potential. But what clock speeds and performance could these chips be capable of with 'full pot LN2' cooling, for example?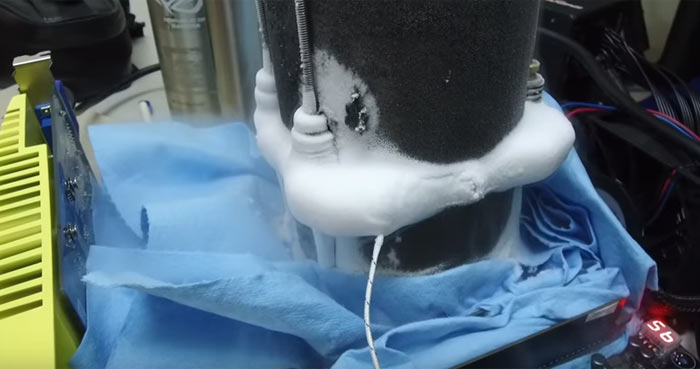 Yesterday OC expert der8auer published a new video episode from his overclocking odyssey at Asus HQ in Taiwan. You can see the until recently NDAed footage of der8auer in sunny Taiwan, pushing an AMD Ryzen 5 1600X CPU to its limits, below.
For background information, the system under test also sported the following components; an Asus ROG Crosshair VI Hero X370 motherboard with BIOS dated 8th Feb 2017, G.Skill Trident Z DDR4 RAM, a 128GB Samsung SSD, and was running Windows 7 Pro 64-bit.
As you might expect if you have heard of der8auer previously, the AMD Ryzen 5 1600X CPU was pushed to its limits using LN2 cooling techniques. As well as recording the top stable overclocks possible with one of AMD's newest 6-core processors, he ran several popular benchmark programs to see what could be achieved.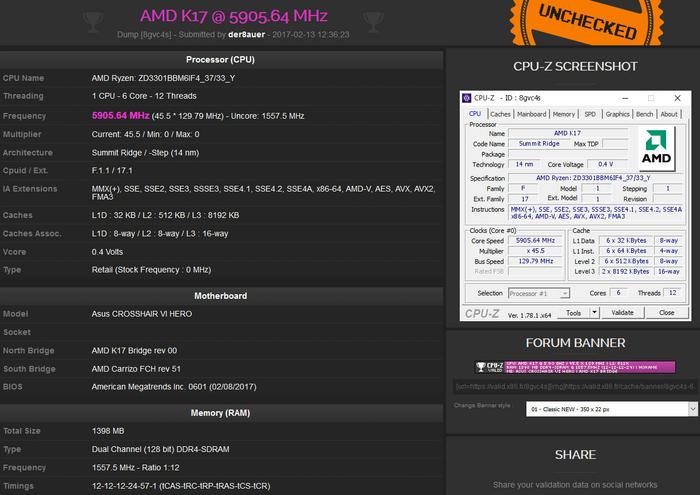 Evidenced by the screenshot above, hosted by the CPU Validator site, a headline clock speed of 5.9064GHz was achieved running the AMD Ryzen 5 1600X with 6C/12T enabled.
What's the point of speed without application? To see what an LN2 1600X was capable of der8auer ran tests in benchmarks such as Cinebench, Geekbench and GPUPi (links to HWBot). All the scores achieved have become new world records for 6-core CPU performance, deposing the Intel Core i7 5820K from its six legged throne. Note the clock speeds at which each processor achieved its record breaking benchmark scores.