Sometimes developers can be a little too laser-focussed upon their own travails to worry about minor details such as NDAs, or other insider knowledge. A case in point came to light today when FinalWire, the developers of the respected AIDA64 benchmarking toolset released a new beta version of the AIDA64 Extreme software (Version: 5.90.4208 beta (Apr 04, 2017)).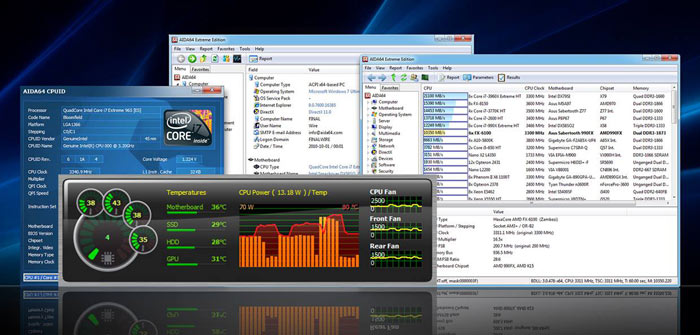 The release notes of this freshly updated app detailed some interesting new hardware support additions. Unfortunately, the page has since been edited to remove the premature hardware references, but luckily the full bullet pointed list has been preserved by sites like Tweaktown. Below you will find the unedited release notes bullet point list from before FinalWire's hasty edits:
System Stability Test / new page for unified readings
System Stability Test / warning message when TdrDelay is too short
improved Windows product type detection
improved chipset information for Intel Skylake-E/EN/EP/EX
preliminary SPD SMBus support for Intel Skylake-E/EN/EP/EX
improved chipset information caching
CPU TDP limit detection for AMD Ryzen 5
CPU package temperature measurement for Intel Skylake-E/EN/EP/EX
CPU VDD and CPU VDDNB voltage, current and power measurement for AMD Ryzen
improved support for AMD Zen server CPUs
preliminary support for AMD Zen 12-core and 16-core HEDT CPUs
GPU information for AMD Radeon RX 570 (Polaris 10)
GPU information for AMD Radeon RX 580 (Polaris 10)
sensor support for Dell SMI of OptiPlex 5050
fixed: motherboard specific sensor info for EVGA E75x, E76x, E77x
fixed: CPU diode temperature measurement for AMD Ryzen (-20 Celsius offset on 1600X, 1700X, 1800X)
I've put the eyebrow raising bullet points above into bold, for clarity. It looks like the benchmark programming boffins have slipped up and confirmed a salvo of impending AMD hardware releases that are apparently due in the not-too-distant future.
First of all you can see that high-core count HEDT Ryzen CPUs are indeed on their way from AMD. In addition to the 16C/32T Ryzen chip we heard about in rumours last month, AMD looks to be releasing at least one 12C/24T CPU. There might be multiple 16C and 12C chips in the upcoming HEDT range.
We have seen various scraps of information concerning the AMD Radeon RX 500 series previously. FinalWire offers further confirmation, in the above release notes, that the graphics card refresh from AMD coming shortly.