Rumours swirled around the internet this weekend as two distinct sources claimed that AMD is working on Zen-based HEDT (high-end desktop) processors and motherboards. France's Canard PC and China's ChipHell (Via DigiWorthy) both assert that AMD is working on a 16C / 32T quad channel Ryzen CPU. They go on to variously claim that the processor will be accompanied by the launch of AMD's X399 LGA SP3r2 motherboards, and the resulting systems will excel in the productivity tests that Ryzen already shines in.
Canard PC
In a Tweet the French source claims AMD's 16C / 32T HEDT processors are on the way and will be launched in four to six months time. The processors will be constructed from 2x MCM dies and offer clock speeds ranging from around 2.4GHz - 2.8GHz. AMD's new motherboard platform will be called X399 and this will accept the HEDT chips via LGA SP3r2 socket, says Canard PC. Apparently, the platform supports quad-channel DDR4 memory configurations. Expect the processors to come with approx 150W TDPs, we are told.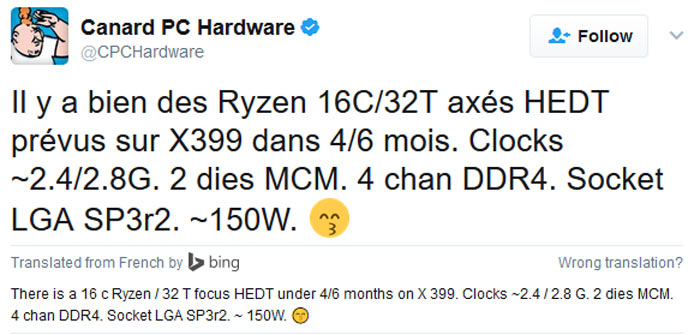 ChipHell
This Chinese source believes AMD will launch its HEDT platform at Computex or thereabouts. In productivity apps the new platform is reportedly "insanely quick," and interestingly 'gaming issues' causing erratic results in the recent Ryzen AM4 launch will be "ironed out". ChipHell agrees with Canard PC about the chip being rather large and supporting quad-channel memory.
Providing an idea about pricing the ChipHell thread says that AMD's 16C/32T HEDT chips will be near enough half the price of competitive Intel Xeon parts, with a price of $1000 or less for some AMD SKUs.
Please take the above rumours with a pinch of salt, especially as AMD hasn't revealed any high-end desktop processor plans for summer launch, yet it has outlined its Naples server CPUs.
Remember Naples
As a reminder of official AMD processor strategy, the (up to) 32-core Naples enterprise server CPUs were announced earlier this month, ahead of their proposed Q2 2017 launch. Naples provides 'more of everything' compared to Intel Xeon competitors; with up to 64 threads, eight DDR4 memory channels, and 128 PCIe 3.0 lanes.