Macom Connectivity Solutions has announced that it is sampling the X-Gene 3 Server-on-a-Chip to select customers. This ARM powered SoC was launched last November (by the recently acquired AppliedMicro) and this third generation design is manufactured on the 16-nanometer FinFET process. Macom claims the X-Gene 3 is "the most powerful ARM CPU available today".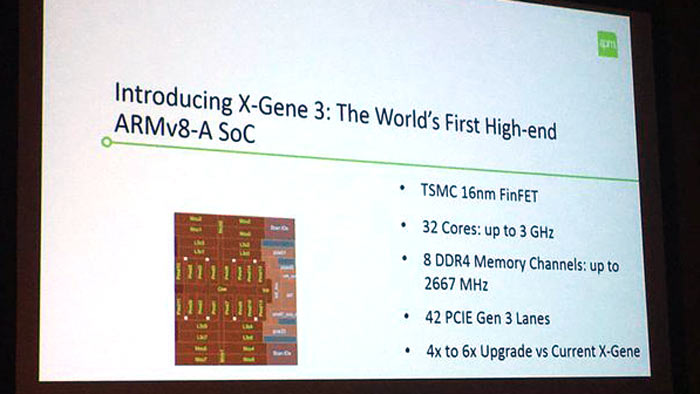 Inside the X-Gene 3 are 32 ARMv8-A 64-bit cores operating at speeds up to 3.0GHz. The chip can address 8 DDR4-2667 memory channels with ECC and RAS supporting up to 16DIMMs for up to 1TB of memory. Furthermore the X-Gene 3 supports 42 PCIe Gen 3 lanes with eight controllers. Compared to the X-Gene 2 processor Macom touts a five-fold performance gain.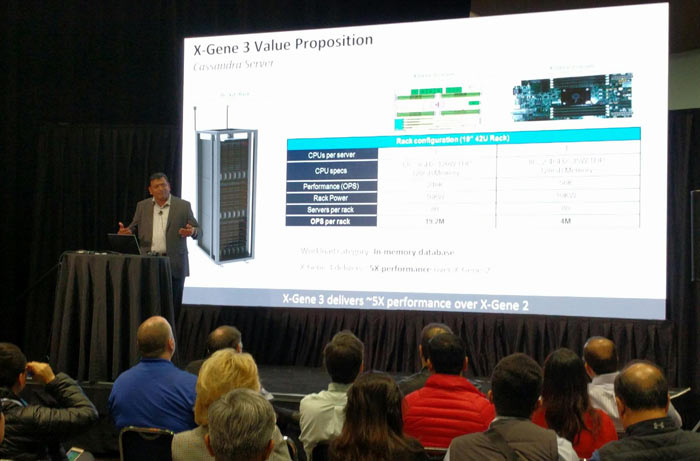 Kumar Sankaran, associate VP of software and platform engineering at Macom's newly acquired compute business from AppliedMicro, said "We are excited to announce that the X-Gene 3 performance and power measurements are exceeding our expectations."
x86 beating
Earlier in the week, also from the OCP U.S. Summit exhibition floor, we heard that Microsoft had started to use ARM-based servers to run its internal cloud platform. Macom's news also appears to threaten Intel's server hegemony. In its press release announcement of X-Gene 3 sampling, Macom claims that its powerful SoC "matches comparable x86 processors in CPU throughput, per-thread performance and power efficiency, while offering advantages in memory bandwidth and total cost of ownership."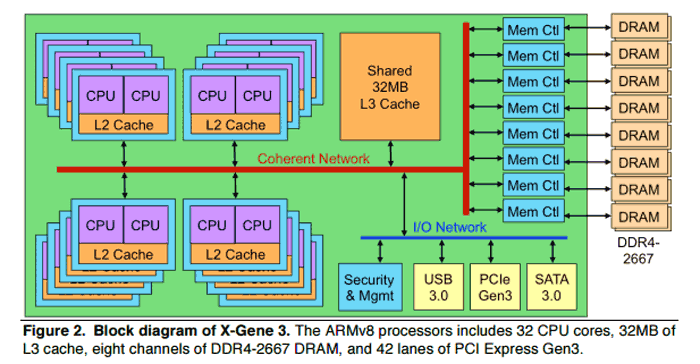 X-Gene 3 tests by The Linley Group back up Macom's claims, with the new SoC said to be capable of handling a broad range of cloud workloads. Linley Gwennap, principal analyst at The Linley Group said "The processor excels on big data, particularly in-memory databases, because of its high memory bandwidth. With X-Gene 3, ARM is ready for the cloud."
Macom is now shipping X-Gene 3 to select customers.