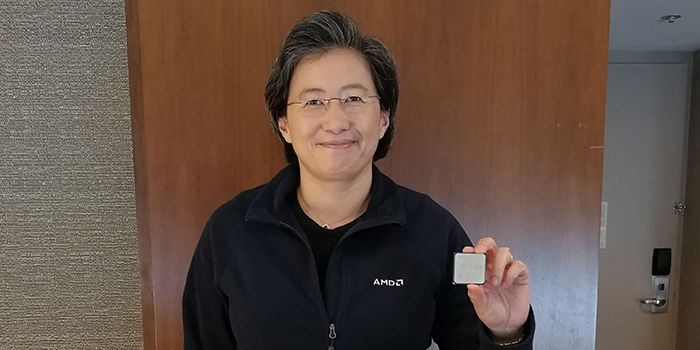 AMD CEO, Dr Lisa Su, today officially unveiled a trio of Ryzen processors, ending weeks of speculation.
The trio are Ryzen 7 1800X, Ryzen 7 1700X and Ryzen 1700, and they all use the same die composed of eight cores and 16 threads via AMD's own take on hyperthreading.
Su spoke of the high-level details only, with the nuts and bolts to be released at a later date. The following table, which we speculated upon last week, is now confirmed as being largely true.
AMD Ryzen 7 CPU Range

Model

Cores / Threads

Cache

TDP

Base Clock

Turbo Clock

XFR

Price

Ryzen 7 1800X

8 / 16

20MB

95W

3.6GHz

4.0GHz

Yes

$499

Ryzen 7 1700X

8 / 16

20MB

95W

3.4GHz

3.8GHz

Yes

$399

Ryzen 7 1700

8 / 16

20MB

65W

3.0GHz

3.7GHz

No

$329
What you see is that pricing is indeed very competitive, based on a core-to-core comparison against equivalent Intel parts. So what is equivalent, you may ask? Su went on to compare the multi-core performance of the Ryzen CPUs against a trio of Intel chips; here are the AMD-provided numbers.
Of course, AMD is using a best-case scenario in terms of multi-threaded benchmarks. That application is Cinebench R15, which we routinely use in our test setup. Ryzen 7 1800X scores 1,601 at stock speeds, Ryzen 7 1700X manages 1,537 and Ryzen 7 1700 returns 1,410.
AMD reckons the Ryzen 7 1800X beats out the Core i7-6900K's 1,474 score comfortably enough. What's more telling is that the Intel chip currently costs $1,100, or over twice the price.
Switching down to the Ryzen 7 1700X, its comfortably faster than the $425 Core i7-6800K's 1,108 score. Finally, the Ryzen 7 is miles faster than the $349 Core i7-7700K, largely thanks to its doubling of cores and threads.
We have already done our own comparative benchmarks in preparation of Ryzen 7 reviews, so here is how the Ryzen chips stack up against a bunch of Intel and older AMD chips.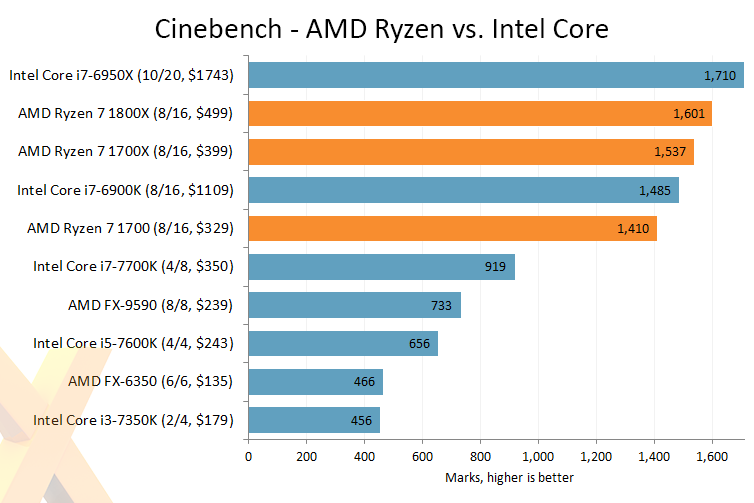 As a recap, the blue bars represent HEXUS numbers run last week; the orange bars are AMD-provided numbers on its own systems. Note that our Intel results match-up pretty well to what AMD published.
So, appreciating this is a best-case multi-threaded scenario, you can see that AMD offers the same kind of performance as Intel's high-end desktop chips at a fraction of the price. AMD reckons results are similar in the also-multi-threaded Handbrake. We will know more as we conduct benchmarks on our own Ryzen chips.
Su went on to say that single-threaded performance is also decent, with the Ryzen 7 1800X matching the Core i7-6900K on Cinebench's single-CPU test. We expect Kaby Lake's higher frequency to still keep the single-threaded crown against Ryzen, though we reckon that AMD will get reasonably close, unlike the very poor performance of the incumbent Bulldozer/Excavator core. Our HEXUS.Pifast test will reveal all.
What we also now know is that the 8C/16T die composes 4.8bn transistors on a 14nm process and is relatively energy efficient - it has no baked-in graphics - at 65W for the Ryzen 7 and 95W for the top duo.
Interestingly, these unlocked Ryzen chips are to be available for pre-order from a bunch of popular retailers starting today, though first deliveries won't take place until the hard launch on March 2, which you can also infer is the review NDA date.
The Ryzen 1700 is the only retail model to ship with a cooler in the box - the Ryzen 1700X and Ryzen 1800X will be sold as processors only.
Many users will be more interested in the four- and six-core versions of Ryzen. All we can say for now is that they will be available in Q2 and H2 2017.
Watch this space.