We have seen quite a flurry of AMD Ryzen leaks and spills recently. Last week we saw what was described as the full lineup leaked (with 17 processors), some pricing leaks, and some official Zen core design information from AMD engineers at the ISSCC. Over the weekend the deluge has continued; with further details, pricing, and even benchmark leaks.
Full lineup, clockspeeds, with prices
Tech site WCCFTech published what it claimed to be a full AMD Ryzen CPU lineup, clockspeeds, and prices. Its source is Chinese retailer product price list which it has massaged to estimate the US pricing. Let's cut to the chase, the table detailing nine processors is reproduced directly below: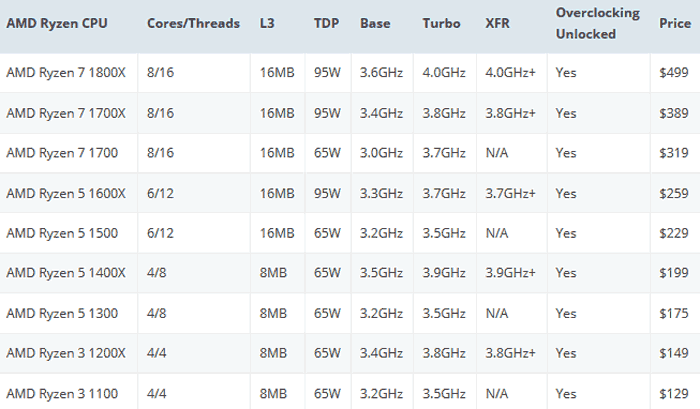 The prices in the above table are in line with some of the earlier retailer price leaks concerning the AMD Ryzen 7 1800X, Ryzen 7 1700X, and Ryzen 7 1700. If these launch prices are correct AMD will indeed cause a stir among users, the industry, and investors, with its Ryzen launch.
Cooling and XFR
In the above table you will note there are three frequencies listed for processors. The processors with an 'X' suffix have base, turbo, and XFR frequencies. XFR is thought to stand for 'eXtended Frequency Range' and if the Ryzen X chip is equipped with an approved cooler, the XFR chip will boost higher, depending upon the cooler abilities.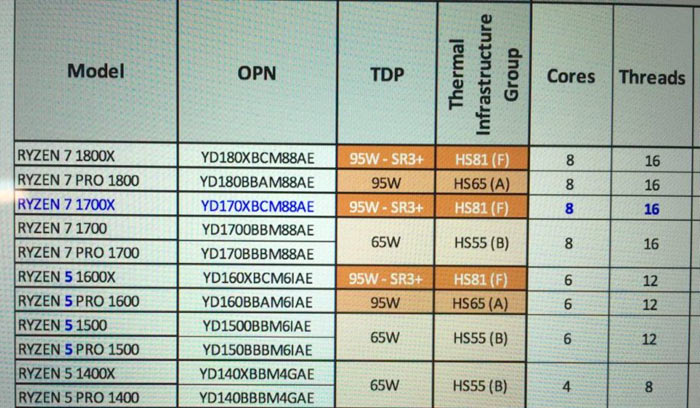 A leaked datasheet published on Anandtech forums, via VideoCardz, shows that the Ryzen 7 1800X, Ryzen 7 1700X, and Ryzen 5 1600X will need special coolers to enable XFR. These CPUs need AMD's HS81 to enable XFR. I guess there will be third party XFR enabling coolers and somewhere a setting to tell your CPU that it has an XFR capable cooler and how high it can be boosted.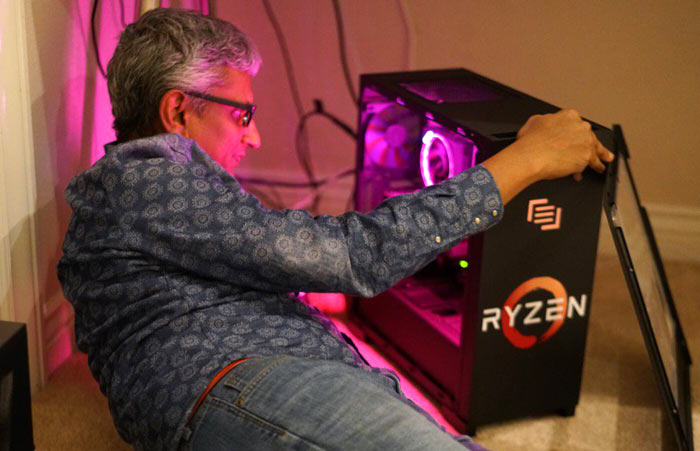 AMD Ryzen 7 1700X benchmarks
Elsewhere on VideoCardz some AnandTech Forum benchmarks have been reproduced (now removed from the forums). The CPU under test was said to be the AMD Ryzen 7 1700X. The Passmark suite was used and comparisons with high-end Intel Skylake and Kaby Lake chips tabulated alongside the red team's result. I've included some of the results below (summary CPU Mark table, single thread results, and physics frames per second - respectively) but you can get many more via the source link.

It is noted that in the above results Turbo mode for the Ryzen CPU is currently disabled (or undetected), so the performance could increase significantly in a post-launch test on a properly configured system. Furthermore, the AM4 motherboard used was an entry level MSI A320, paired with middling performance memory modules.