At Intel's annual investor day yesterday the company showed a slide claiming greater than 15 per cent performance improvements would be delivered by Cannonlake CPUs. The slide was entitled 'Advancing Moore's Law on 14nm', and you can see it reproduced directly below.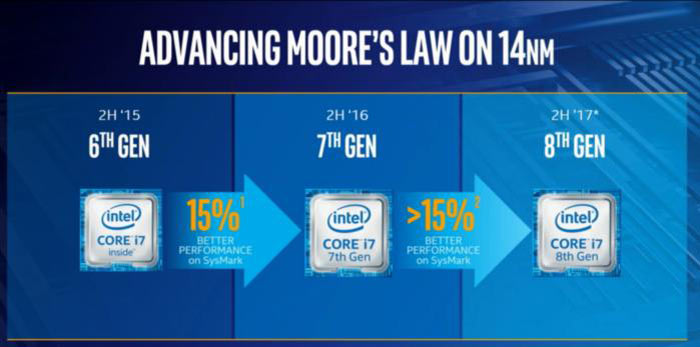 Above you can see that Intel reckons Kaby Lake Core i7 CPUs delivered an approximate 15 per cent performance uplift compared to Skylake Core i7 CPUs. When Intel releases its first 10nm CPUs, the 8th generation Core processors (AKA Cannonlake CPUs) we can expect an even better performance uplift at the top end.
Intel showed off a Cannonlake powered PC system back at CES 2017, last month. At that time CEO Krzanich announced that "for those who are wondering if Moore's Law is alive, is 10 nanometres going to be here, the answer is absolutely yes." Looking at timescales, the above slide shows Cannonlake's arrival time as being in H2 2017. However, the same slide says that Kaby Lake was delivered in H2 2016, and we know that was a mobile/laptop first release with desktop processors only arriving in Q1 2017. Then Intel will continue to refine its 10nm CPUs until its 7nm facilitiy comes on line in 2020.
It's over a year ago since we heard that Cannonlake processors would be the first for the Intel consumer that go beyond quad-core. With AMD Ryzen and its 8C/16T processors due to launch soon, Intel better get a move on.
Intel Xeon Processor E7-8894 v4 with 24C/48T
On the topic of Intel multi-core processors, yesterday the firm launched a new Xeon with more threads than you can shake a stick at. The pro-targeted Intel Xeon E7-8894 v4 CPU (list price US$8,898) has 24 hyper-threaded Broadwell cores with a base 2.4GHz and turbo 3.4GHz frequencies.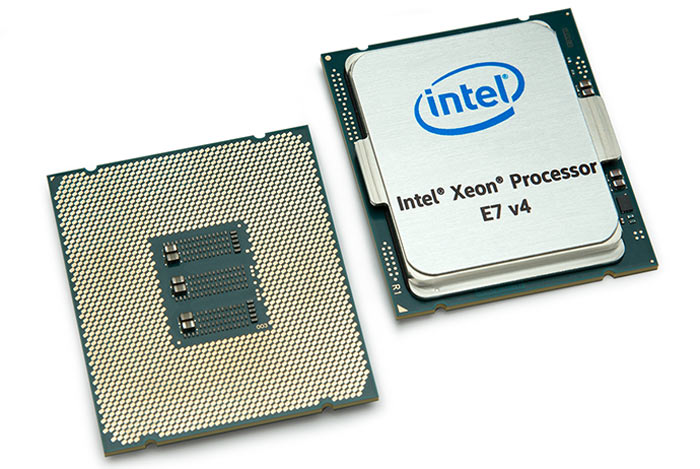 Intel has designed these new 165W Xeon chips for servers with up to eight sockets supporting up to 24 terabytes (TB) of memory (or up to 32 sockets via node controller) . Such a system should easily take in-memory analytics and real-time insight processing in its stride.