Intel has announced that it plans to invest $7 billion to complete a new node at its Fab 42 semiconductor factory in Chandler, Arizona (pictured below). This high-volume factory is earmarked for production of processors made with 7nm process technology. Intel CEO Brian Krzanich made the announcement, which should mean the creation more than 10,000 US jobs, alongside US President Donald Trump at the White House.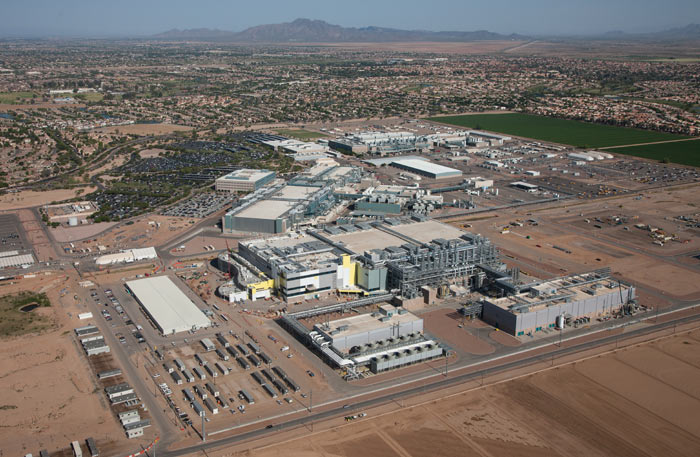 "Intel's business continues to grow and investment in manufacturing capacity and R&D ensures that the pace of Moore's law continues to march on, fuelling technology innovations the world loves and depends on," said Krzanich. "This factory will help the U.S. maintain its position as the global leader in the semiconductor industry."
In a press release concerning the Fab 42 news Intel claims to be America's largest high-technology capital expenditure investor with $5.1 billion invested in the US in 2015, and the third largest global R&D investor with $12.1 billion spent in 2015. Intel directly employs more than 50,000 people in the US and it is estimated that half a million people are employed by industries that support Intel operations.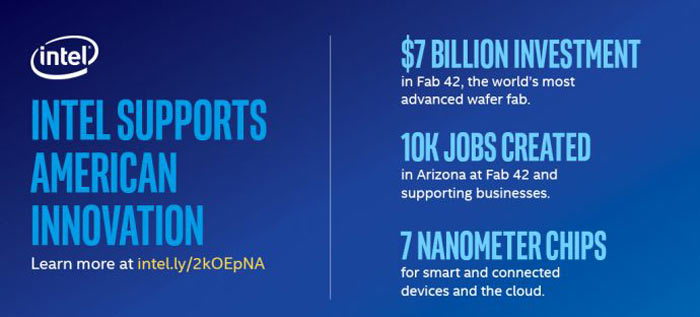 Thanks to its huge new investments in turning "sand into semiconductors" Fab 42 will be at the forefront of "the most advanced semiconductor process technology used in the world," says Intel. Its 7nm chips will be sold into market segments such as data centres and high-tech devices and help enable cutting edge AI, smart automobiles, medical equipment, and more.
Fab 42 will be complete in 3 or 4 years from now.