One of the biggest unknowns concerning AMD's upcoming Ryzen processors is what price they will be sold at. We've heard lots of details about Ryzen, its architectural design, its capabilities, and the technology behind it but the crucial pricing information has been held back. Understandably, AMD wouldn't want to forewarn competitors by providing too much information on a product yet to launch. Furthermore, product pricing is a variable that can be changed rather quickly so it's shrewd to hold back such info.

Retailers aren't always on the ball at following NDA dates and such. Electronics sellers handle thousands of products so when new ones appear it's easy to miss information about not publishing details too early, and this looks like what has happened several times with AMD Ryzen CPUs already.
Earlier in the week there were Euro prices for AMD R7 Ryzen 8C/16T processors circulating the internet. Now those prices have been given credence by further spills from US and UK online retailers.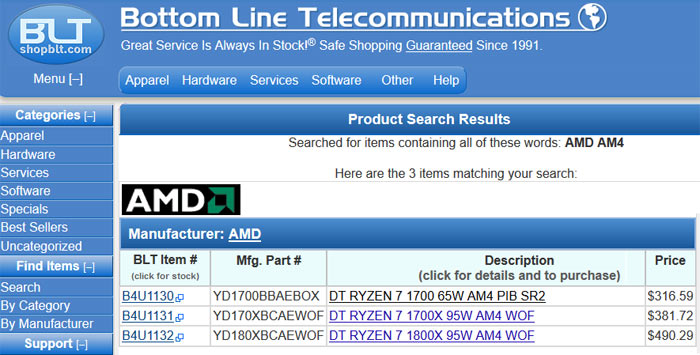 VideoCardz reports that in the US an outfit called ShopBLT (sounds like a sandwich shop) has published a trio of R7 Ryzen chip prices, with some other accompanying details. See the screenshot above for that. The absolute top end AMD Ryzen 7 1800X is currently listed at US$490, the Ryzen 7 1700X at $381, and the Ryzen 7 1700 at $316. Remember US prices don't usually include state tax which varies depending where you live.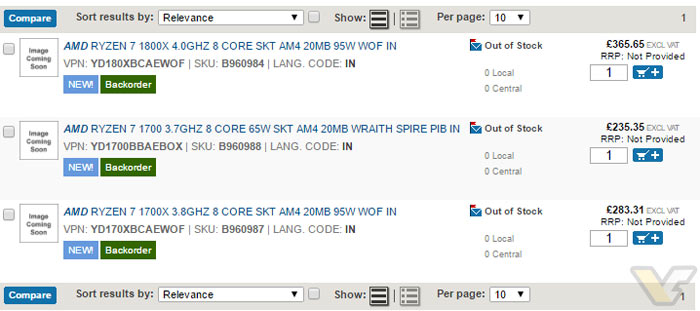 In the UK we have a screenshot of a listing of Ryzen CPUs from trade seller Ingram Micro. These listed processors seem to have been taken down, but luckily VideoCardz took a snap. You can see the top end 4GHz AMD Ryzen 7 1800X was listed at GBP £365, the Ryzen 7 1700X at £283, and the Ryzen 7 1700 at £235. These are ex-VAT prices so you have to add 20 per cent, unfortunately. That makes the AMD Ryzen 7 1800X £438 by my calculations. In the listings WOF seems to mean 'without fan'.
What do HEXUS readers make of the prices from these apparent retailer slip-ups?
UPDATE: The source of the UK pricing image above has emailed me to say that the screenshot is from Ingram Micro, rather than Kikatek. Ingram Micro is a worldwide distributor rather than consumer retailer, so we probably can't expect these prices to translate very closely to retail, even with the added 20 per cent VAT.