Ahead of the Intel Kaby Lake for desktops launch Asus invited a small group of overclocking enthusiasts to its HQ in Taipei to take part in one of its Absolute Zero events. At the latest such event German overclocker 'der8auer' pushed an Intel Core i7-7700K CPU to 7.2GHz. Now this OC champ has published a video on YouTube detailing his experiences of travelling to Taiwan to take part in the ASUS Absolute Zero event and some of the details of the overclock achieved. (Click appropriate icon for to enable English subtitles if you German isn't up to scratch.)
The technical overclocking details are discussed from about 5 minutes and 10 seconds onwards.
100 litres of LH - gone in 15 minutes
To get the most out of Intel's latest generation chips Asus offered the overclockers access to not just liquid nitrogen (LN), but liquid helium (LH). LH is rather expensive at around €40 Euros per litre, compared with LN at 30 to 40 cents per litre. Furthermore LH is lighter, evaporates much more quickly (one litre lasts about 10s), and needs lancing direct to the CPU, says der8auer.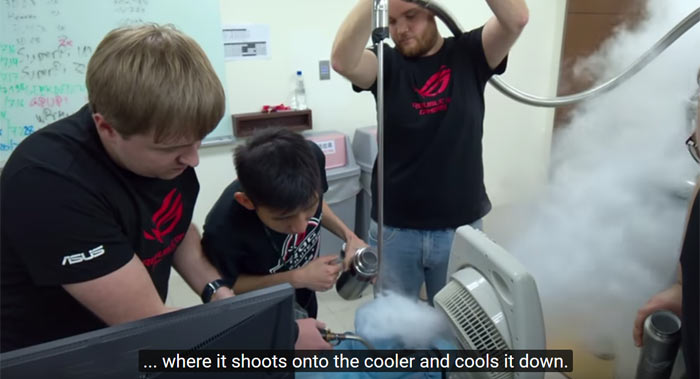 Lancing the LH
What you are paying more for is LH's key property - being about 70C lower in temperature than LN. In other words LH is about -269C. In the overclocking world every degree is important in being able to achieve higher OC scores so would that extra cash for the LH be well spent?
der8auer says that there are nearly always the additional costs of some CPUs being destroyed by testing, especially with new CPUs where voltage tolerances aren't part of anyone's experience.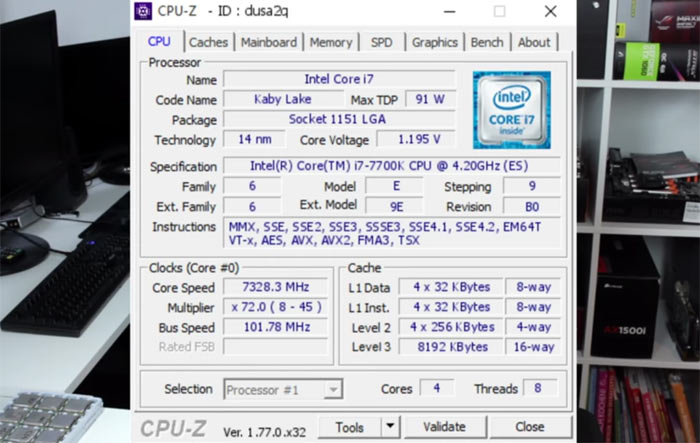 So what was achieved? der8auer managed to get his Intel Core i7-7700K to overclock to 7,328MHz, claimed to be "the highest speed ever reached by a quad-core Intel CPU". Interestingly, and rather unusually, the best OC was achieved by der8auer with all four cores operating and Hyper-Threading turned on.