Over the weekend a Chinese site has published what it claims to be the full lineup of AMD Ryzen processors. It claims that AMD will be releasing 17 Ryzen CPUs in three sub-divisions; the top-end R7 range, the R5 range, and the R3 range. Ryzen CPUs will vary from 8C/16T all the way down to 4C/4T chips, with varying clock speeds and other features for product range differentiation.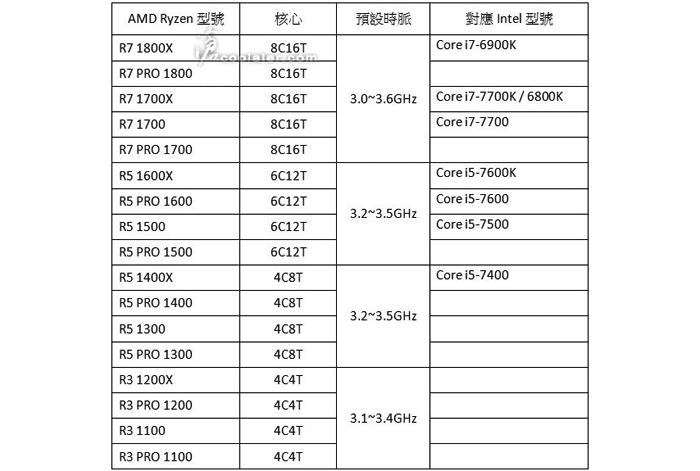 Starting at the top, the AMD Ryzen R7 range are all 8C/16T CPUs and aim to be competitive with the likes of the Intel Core i7-6900K and i-7700K etc. You can see in the list above that these five upper echelon Ryzen CPUs will have clock speeds ranging from 3GHz to 3.6GHz out of the box.
Interestingly, there are chips with an 'X' suffix and with a 'Pro' suffix but we aren't sure what these signify as yet. However, it's probably safe to assume the 'Pro' processors will offer some added enterprise, management, and security features.
AMD's Ryzen R5 range is its biggest with 8 CPUs split between 6C/12T and 4C/8T parts. Whichever core config we look at, clock speeds vary between 3.2GHz ands 3.5GHz. Again the range has parts with an 'X' suffix and a 'Pro' suffix. The Chinese sourced table compares these Ryzen chips to members of Intel's new Kaby Lake Core i5 processor range.
There are just four AMD Ryzen R3 processors and they are all 4C/4T chips. Even at this entry level, AMD is providing 'X' suffix and a 'Pro' suffix chips. Clock speeds of these non-hyperthreading processors range from 3.1 to 3.4GHz, according to the Chinese source (via TechPowerUp).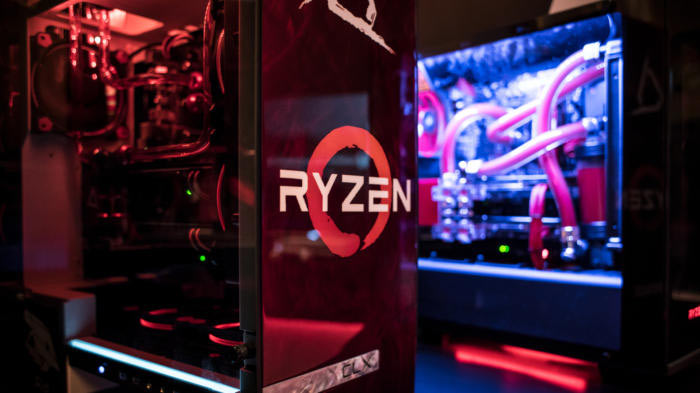 A number of the above 17 CPUs will launch on 2nd March according to some sources (an early March launch was confirmed by Dr Lisa Su). Hopefully then we will find out how competitive these AMD Ryzen CPUs are priced. Please take a pinch of salt with the above Chinese sourced report.