Intel has quietly released information about its more affordable Kaby Lake desktop chips; the Pentium range. With its seventh generation designs Intel has mixed things around a bit. Previously modern Pentium chips didn't offer HT (Hyper Threading) but now they are all 2C/4T designs, with all the benefits that brings. However, another range-wide change won't be so welcome - the removal of support for ECC RAM.

You can read up on the five new HT enabled Pentium chips direct on Intel's ARK site: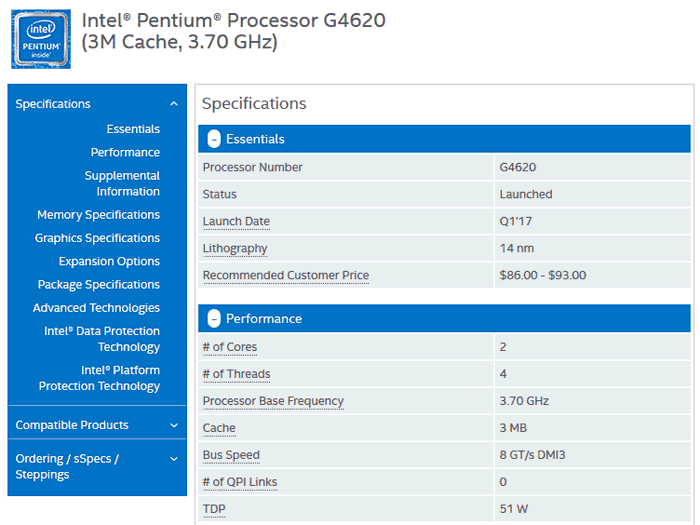 The above Pentiums might now feature HT but, in general throughout the range, have the following disadvantages compared to a Core i3 counterpart; lower base clock speeds, 3MB rather than 4MB of cache, lack of AVX2 instruction set support, greater power consumption, lower spec HD graphics, and lack of ECC RAM support.
The lack of ECC RAM support in the new Pentiums could annoy some who have previously bought/created servers or NAS boxes using these cheaper processors. Of course the other differentiator between Pentium and Core i3 is the price. There is a $50 to $60 uplift in RRP for a corresponding i3 chip.
Intel Core i3-7350K Processor Review
On the topic of lower end Intel chips, we previously reported on an overclockable Kaby Lake Core i3 chip dubbed the Core i3-7350K. That interesting new i3 has recently been through the Legit Reviews labs. Priced at $168, the unlocked i3 processor on the test bench easily overclocked from its base freq of 4.2GHz to 5.1GHz by tweaking the multiplier and voltage. On lightly threaded tasks the i3-7350K could be a winner, reckoned the Legit guys in the review conclusion.