Over the weekend a French PC hardware print magazine published a review of an AMD Ryzen ES (Engineering Sample) tested upon a beta motherboard (via Guru 3D). The article author is said to be the same person behind the famous CPU-Z utility and warns that the bench test results from the octacore AMD Ryzen ES might not be very similar to those achievable from the final shipping processor.

Canard PC tested an AMD '2D3151A2M88E4' processor. This is but one of four ES processors distributed by AMD to its hardware partners (there were 2x quad core and 2x octacore chips as detailed above). These ES processors seem to run at conservative clock speeds. For example the Canard PC sample was clocked at base/boost of 3.15/3.4GHz. Note that AMD announced that top-end shipping Ryzen chips would have a 3.4GHz base clock.

A trio of benchmark tables was assembled by Canard PC encompassing; Utility benchmarks, gaming benchmarks, and a power consumption comparison chart. You can see that despite the ES constrained clock speeds and beta motherboard the AMD processor does pretty well overall. In the utility benchmarks it fares best for now.

In gaming it seems to lose some ground, for now. The AMD engineering sample is only actually 10 per cent behind the similar configured (8C/16T) Intel Core i7 6900K. A final retail chip with higher clocks plus an updated motherboard could easily catch up.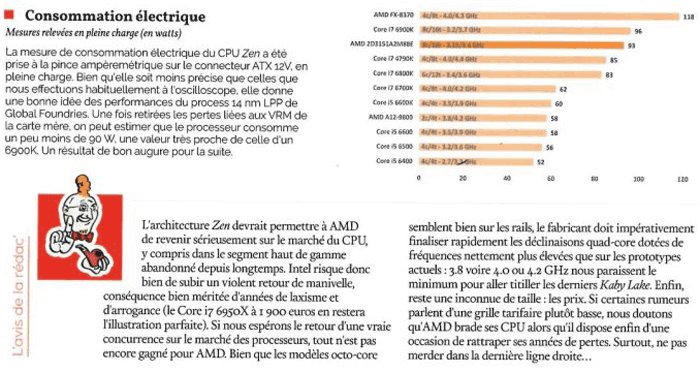 The Ryzen ES chip tested by Canard PC consumed about 93W. AMD rates its 14nm 8C/16T Ryzen chip at 95W. The above benchmarks are interesting indicators but we will still have final shipping hardware to test, and pricing to consider.