Corsair has announced a couple of interesting new liquid cooling accessories at the International CES. First of all it showed off the new Corsair Hydro Series H110i GT Liquid CPU Cooler, said to be the most advanced that it now offers. Secondly it revealed the Corsair Hydro Series HG10 N780 GPU Cooling Bracket which allows users to adapt their Corsair liquid CPU cooler to help chill their Nvidia GeForce GTX 700 Series graphics card.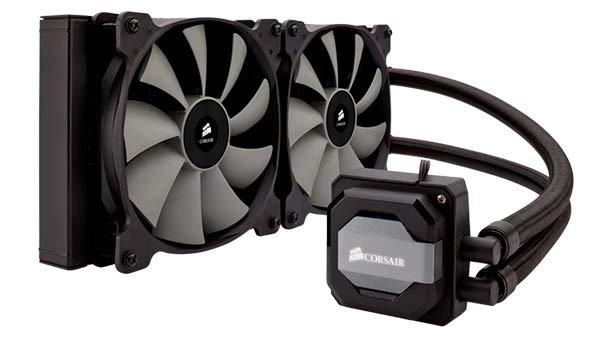 Hydro Series H110i GT Liquid CPU Cooler
The H110i GT provides extreme CPU cooling when you need it and quiet operation when your PC is coping with less stringent demands. It is equipped with two 140mm fans which work with a 140 x 322mm radiator. We are also told that the design employs a "new generation, high-efficiency cooling block," to maximise heat dissipation.
This new liquid cooling solution is Corsair Link compatible so you can monitor and regulate the fans speeds and pump speed via a software UI. The built-in logo lighting is also customisable via this software.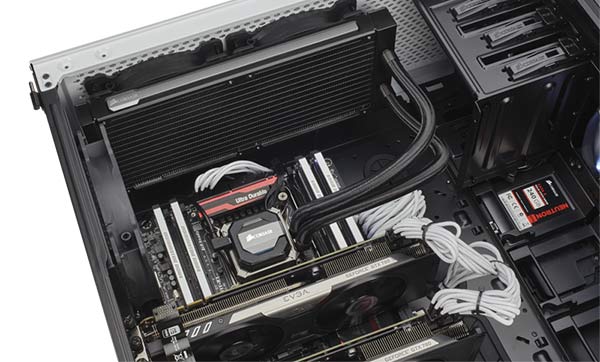 Specs are as follows:
140mm x 322mm x 27mm aluminum radiator
Two SP140L 140mm high static pressure fans
Corsair Link support for customization and monitoring
Sleeved wide diameter, low evaporation rubber tubing
Self-contained no maintenance or refilling system
Support for Intel LGA 115x, 1366, 2011 and AMD AM2, AM3, FM1, FM2
5-year limited warranty
MSRP: $129.99
HG10 N780 Edition GPU Cooling Bracket
This cooling bracket allows users to purpose their Corsair Hydro Series liquid CPU cooler (not included) for GPU cooling duties. Corsair says this bracket is compatible with reference design Nvidia GeForce GTX 700 series cards including the GTX 770, GTX 780, GTX 780 Ti, Titan and Titan Black. The design of the bracket means that VRAM and VRMs are also cooled providing better stability in overclocking situations and you might expect a longer life for the graphics card.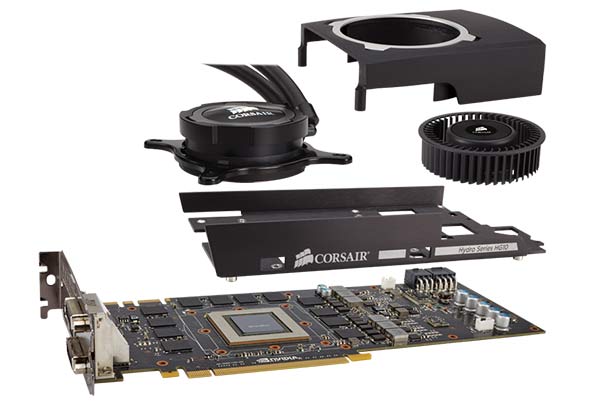 Fitting is said to be a cinch, with only eight screws required. As a result your GPU temperatures could be reduced by as much as 45° C. The system works in tandem with the graphics card's built-in temperature sensors and control - so lower fan speeds in general will undoubtedly result.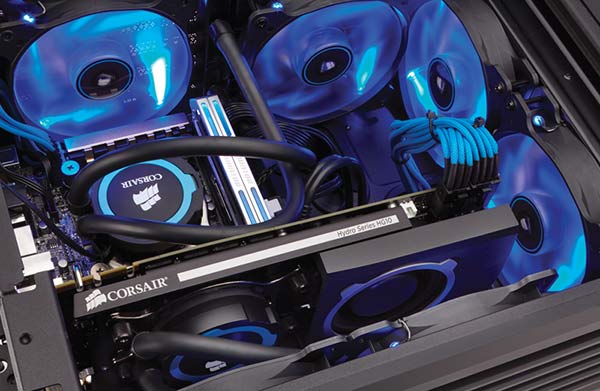 Specs are as follows:
Allows any Corsair Hydro Series CPU cooler to be attached to and cool NVIDIA GeForce GPUs
Compatible with reference NVIDIA® GeForce® GTX™ 770, GTX 780, GTX 780 Ti, Titan and Titan Black graphics cards. See corsair.com for a full compatibility list
Reduces GPU temperatures by up to 45° C
Allows most GPUs to automatically reduce stock fan speed for quieter operation
Cools the main GPU processor, VRAM, and VRMs
2-year limited warranty
MSRP: $39.99
Both the above new performance cooling products will be available from the usual Corsair retail partners from next month.