German cooling, power and chassis specialist be quiet! has launched the new Dark Rock Slim CPU cooler, which it characterises as being "perfect for high-end builds with limited space". Its purported slim and compact form doesn't have any ill effects on cooling performance or acoustics, according to be quiet! In brief, the new Dark Rock Slim is capable of cooling up to 180W TDP and will run very stealthily thanks to its "virtually inaudible" Silent Wings 3 120mm PWM fan.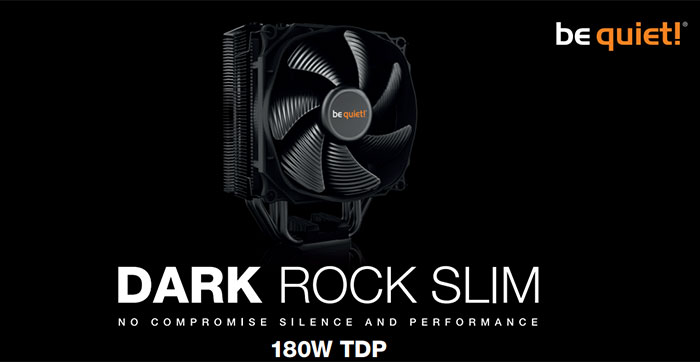 If you are building a high-end machine with limited space, be quiet! reckons the new Dark Rock Slim CPU cooler might be the choice for you. Beyond its cooling performance (180W) and quietness (max 23.6dB), it is designed with the promise that "no memory slots are blocked".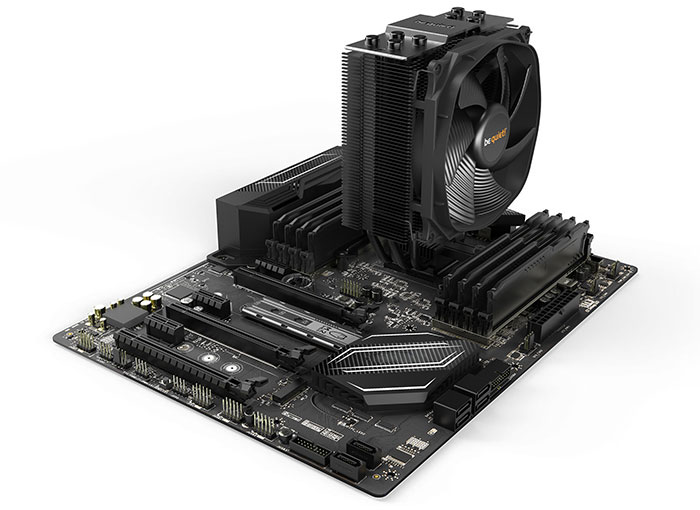 On the topic of physical dimensions the Dark Rock Slim measures 72 x 127 x 159.4mm. That last figure is important to PC builders as it corresponds to the CPU cooler maximum compatibility figure - thus you need a chassis with approx 160mm clearance or greater. Looking though HEXUS news and reviews I note that even the diminutive InWin A1 PLUS Mini-ITX chassis has enough room for this cooler - just.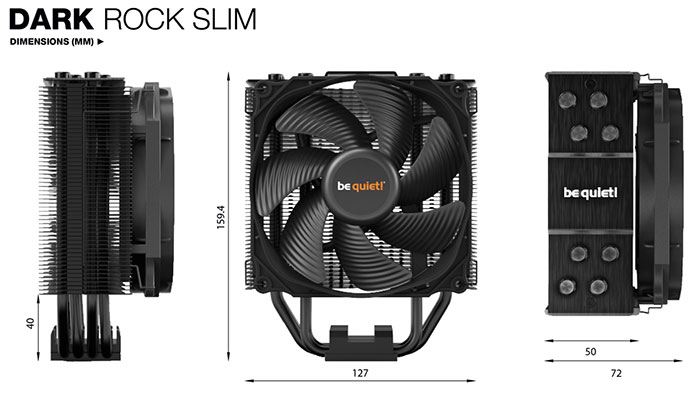 At the heart of the design of the be quiet! Dark Rock Slim there is a block constructed with airflow-optimized, wave-contoured cooling fins, with small dots on their surfaces to increase the air circulation. This cooling block is coated with special black ceramic particles and threaded with four 6mm copper heatpipes.
Be quiet! equips this cooler with a Silent Wings 3 120mm PWM fan featuring seven airflow-optimised fan blades, a six-pole motor for less vibration, and a durable fluid-dynamic bearing. Even at full speed the fan makes only 23.6dB(A) noise. However, if you do want to turn up the cooling performance for some reason there is the option to add another 120mm fan in push-pull configuration.
Highlights of the Dark Rock Slim
Compact construction does not block memory slots
Virtually inaudible Silent Wings 3 120mm PWM fan
Achieves only 23.6dB(A) at maximum fan speed
Four high-performance copper heat pipes
Airflow-optimized, wave-contoured cooling fins
Special black coating with ceramic particles enables perfect heat transfer
Supports an additional 120mm fan; fan clips are included
Easily installable black installation kit can be mounted from above
Brushed aluminium top cover with diamond cut finish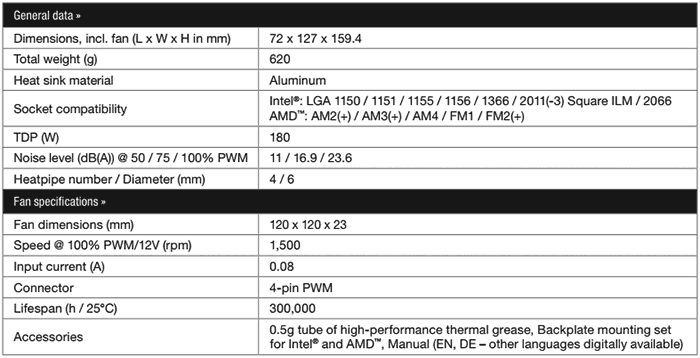 The be quiet! Dark Rock slim will become available from 14th May priced at £54.99 in the UK (€57.90 / $59.90). Hopefully some independent reviews will be published to verify the claims of cooling performance and acoustics.