Cooling, chassis and power supply specialist Antec has launched a new full tower gaming case. The new Antec GX1200 sits atop of the GX gaming series, offering headlining features such as a builder-friendly layout, with ample room for powerful CPUs and GPUs, multiple cooling options (including liquid cooling), and of course RGB lighting frills. HEXUS first saw the Antec GX1200 demonstrated back at Computex Taipei, in June.

Jack Wu, General Manager Europe at Antec, asserts that the GX 1200 offers plentiful features and future-proofing for later upgrades. Wu adds that the GX1200 facilitates "great airflow" with space for the latest powerful PC components.
Key features of the Antec GX1200 are as follows:
Dimensions: L510 x H510 x W200mm, 5.45Kg
Supports mini ITX, micro ATX and standard ATX & E-ATX motherboard
PCI x 7 Expansion slots
Storage: 3.5-inch HDD x 2 (Compatible with 2.5-inch SSD), 2.5-inch SSD x3
Cooling fans: Front 120mm x 3, Rear 120mm x 1, Top 120mm x 2
Water Cooling options
Rear Radiator: 120mm x 155mm x 45mm, Top Radiator: 240mm x 120mm x 30mm, Front Radiator: 360mm x 130mm x 40mm
Pre-installed fans: Front: 120mm 7 Colours LED Fan x 2
Supports up to 410 mm VGA cards
Antec Magic Box: Fan Speed Controller x 6, LED Colour Controller x 3
Removable air filters (PSU dirt prevention)
Bottom Lighting: 7 Colours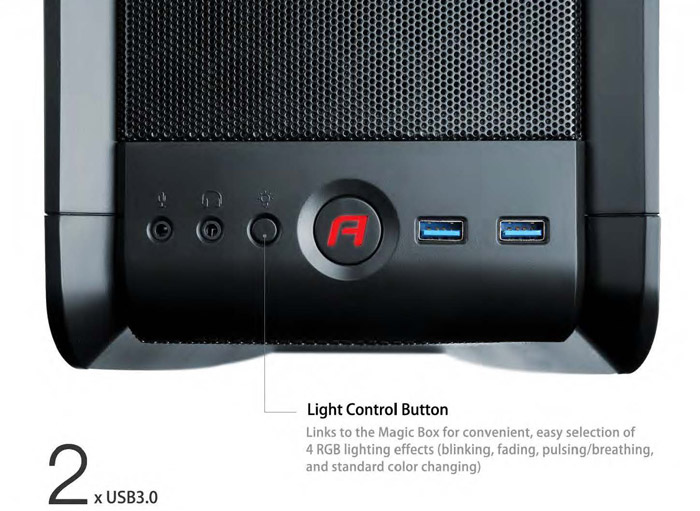 On the top front edge of this case alongside the usual power /reset button, Audio I/O and USB ports (2x USB 3.0) Antec has placed its light control button (see above). This button links to the 'Magic Box' allowing the selection of one of 7 preset colours and between 4x lighting modes (Colour changing, pulsing/breathing, blinking, and fading).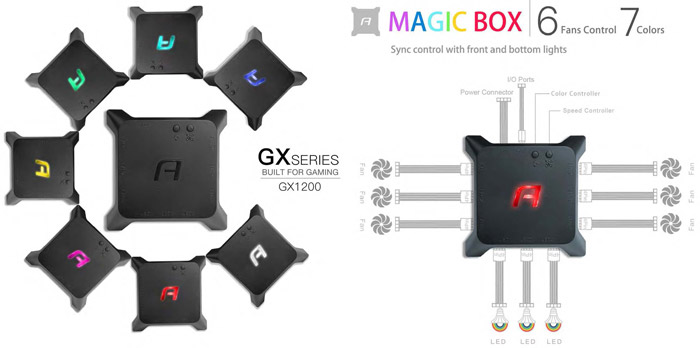 Scanning through the bullet pointed spec list above, you can quickly see the multitude of fan (and radiator) installation options available. Being a full sized tower there's plenty of room inside for storage devices, long graphics cards, and bulky coolering solutions. Motherboard choice is wide open with support for anything from mini ITX to E-ATX standards plus 7x expansion slots. However there's no front panel drive bay or built-in ODD option.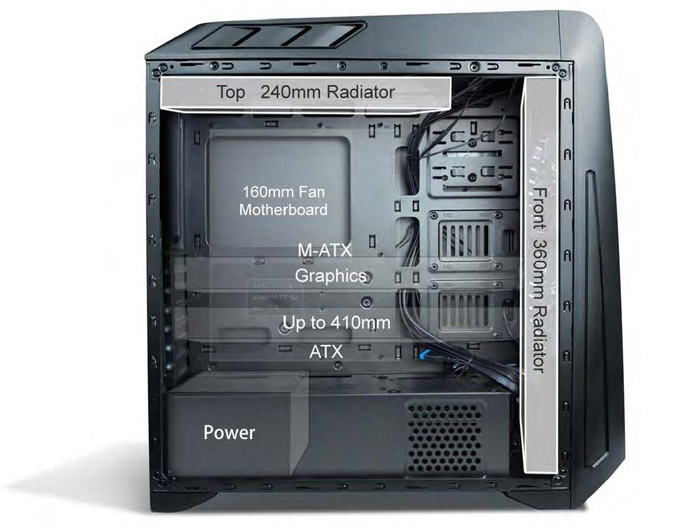 These new Antec GX series gaming cases are now in stock and shipping from UK retailers such as Scan, which is offering the GX1200 at £69.98 inc VAT with free next day delivery. The recommended Euro price is €84 according to TechPowerUp. Buyers get a 3-year warranty.