California based computer accessories, components and peripherals maker Rosewill has announced a new range of PC computer cases aimed at gamers on a budget. The new range of computer cases is called the Galaxy Series and consists of three models; the Galaxy-01, Galaxy-02 and Galaxy-03. All of these cases are very similar in construction and what they offer to the PC builder, differing mainly by their styling. Rosewill says these entry-level cases "don't feel entry level" yet buyers will only have to pay $49.99 for any of the Galaxy Series.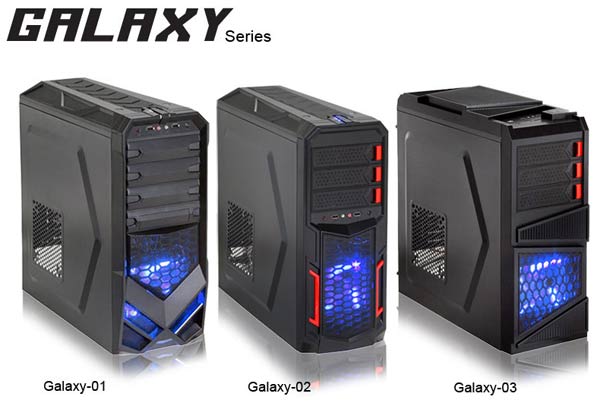 Rosewill took the opportunity of this launch to inform us that it's business is doing particularly well. In H2 2103 the company has enjoyed "double digit growth" in demand for its computer cases. This is part of the reason behind its expansion of range of available cases.
All the new Galaxy Series sport a front 120mm fan "with Blue LEDs to accentuate their gaming aesthetics". In all a Galaxy case comes with three pre-installed 120mm fans and room for an optional 140mm side fan. Rosewill says that the Galaxy Series cases "are ideal for PC builders and gamers for its large internal capacity with support for large powerful graphics cards, performance CPU Coolers, and a 2.5" superfast SSD." Also the price will help you keep within your budget.
All the range are designed with the power supply bottom-mounted to allow cool air to be drawn through the pre-installed removable bottom mounted dust filter. You can install micro ATX and full sized ATX motherboards and there is expansion space for up to 4x 3.5-inch and 3x 5.25-inch devices in the case. Rosewill has also thoughtfully added a dedicated mounting slot of a 2.5-inch SSD drive.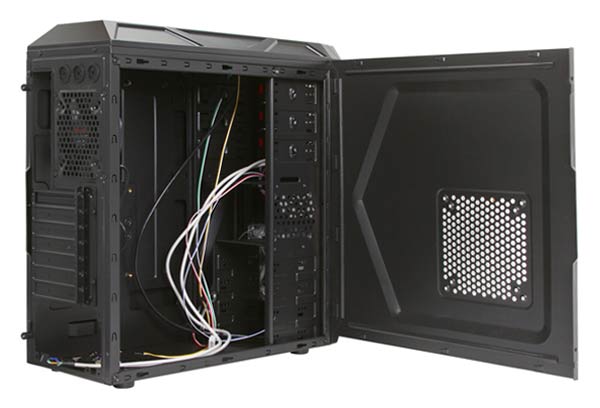 These cases can also accommodate motherboards with up to seven add-in cards installed. Turning specifically VGA cards, a card up to 11-inches long can be fitted. Also CPU coolers have 160mm of headroom.
Looking at the designs overall Rosewill says that "the feather like weight, angled lines, sharp angles, accentuating colours, and a bit of aggressiveness gives the Galaxy Series personality". Essentially you can choose any of the three cases based on looks, there is one small difference between the models and that is that the Galaxy-01 case comes as standard with an external 3.5-inch drive bay in addition to the three external drive bays of the other two models. Consult the specification table below for more details.