Enermax has announced the Fulmo ST Premium ATX Mid-Tower Case. This new case will sit comfortably within the company's Fulmo water cooling friendly range of cases, between the Fulmo midi tower and the Fulmo GT full tower. The Fulmo ST is built to be versatile with cooling and water cooling compatibility always at the forefront of the design.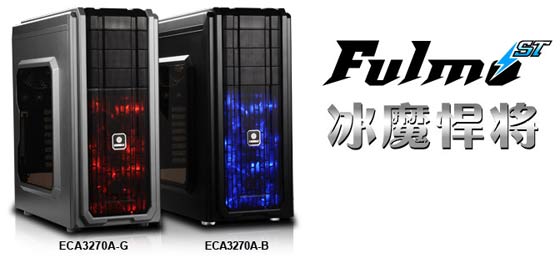 To keep your component installations tidy and cables from impeding any airflow the Fulmo ST is designed with 32mm of clearance behind the motherboard mounting area. Further cooling considerations are served by the "large 60mm cleared area for a full-sized water cooling system with a 280/240mm radiator or 2 x 14/12cm fans" on the top of the case. A maximum of 10 fans can be fitted into the Fulmo ST.
Fulmo ST video presentation (worth watching)
The Enermax Fulmo ST has a top I/O panel featuring a good sprinkling of useful ports and controls. The panel features four USB ports, two of which are of the USB 3.0 variety. Also on offer are audio I/O, power/reset switches and a fan LED toggle switch. Finally there is a fan speed adjustment slider control. (I don't like sliders as they have always seemed more dust-prone on gadgets I've owned)
Looking inside the Fulmo ST, Enermax says its mid-tower design offers "easy installation" and "utmost expandability". Enermax has a slide-in ODD tray, the 2.5-inch and 2.5-inch drive bays have rubber pads for noise suppression. To aid expandability the HDD/SDD cage is removable and can aid a user in fitting up to three VGA cards at once (8 expansion slots). Alternatively, with the HDD/SSD cage in place you have room for up to 13 devices.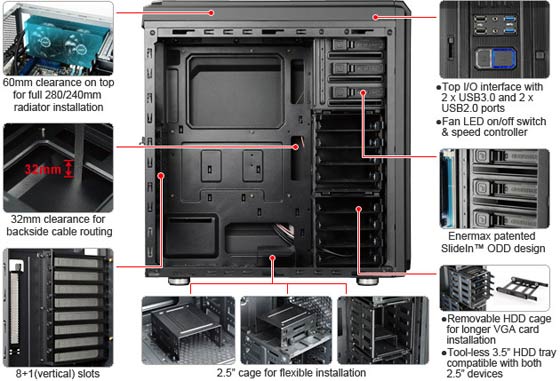 Turning to the appearance of the Fulmo ST case, Enermax describe the Fulmo ST designs as "aesthetically meshed" at the front offering an "overall exciting visual effect", additionally "on the side is a chic, full-cover acrylic side panel; one of the iconic features from Enermax where the builder can show off an individual or customized interior." Yes, a chic acrylic window...
Please check out the above pics, video and Enermax's web site for more info. The Fulmo ST has yet to appear on the Enermax UK website so UK pricing and availability are still unknowns.