We thought NZXT's recently-launched M59 may have offered plenty of bang for your buck, but our readers aren't as easily pleased - with many calling it downright ugly.
Well, let's try again with a low-cost alternative from Enermax that's been dubbed Staray. The steel chassis, pictured below, measures 450mm x 185mm x 411mm and this time around, we reckon it is actually quite sleek.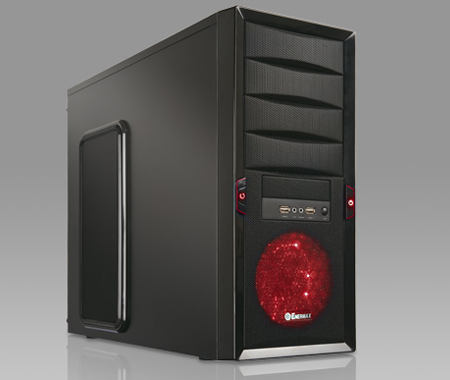 Staray provides four 5.25in optical drive bays and seven 3.5in hard drive bays. There's room for an ATX or mATX board, and support for seven expansion slots.
An I/O panel on the front of the chassis provides USB and audio connectivity, and there seems to be ample room to work with on the inside.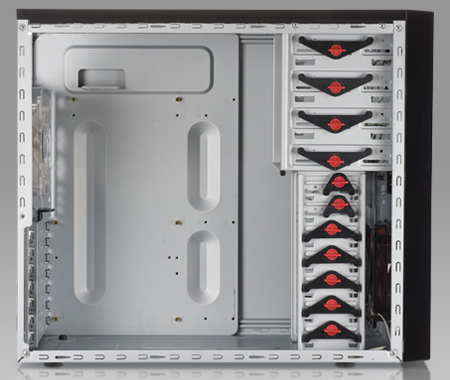 There's tool-free access to optical drives, hard drives and expansion slots, and the side panels are naturally fixed by thumb screws. Users will find pre-drilled water cooling holes, and room for two optional 120mm/140mm fans to be mounted to the side panel, as well as a 120mm rear exhaust.
According to Enermax, however, the highlight of the chassis is the bundled front-mounted fan. It's one of the newly-launched Apollish variety, and we couldn't possibly describe it better than Enermax so here goes:
It is equipped with an Apollish front fan which acts like magic behind the elegant meshed front panel: The patented circular LED light with 15 diodes guarantees intense colours and shines four times brighter than ordinary LED fans. Moreover, an innovative, high-glossy coating assures spectacular light reflexes. One difference in comparison to regular Apollish series: Users can choose between two fascinating light effects: By pushing a button on the front panel, the curved, shiny Apollish light turns into an energetic, rotating light flash. The mirror finish front frame and the red or blue illuminated power and reset buttons complete the eye-catching appearance of the Staray case.
Sounds like it could outshine the Blackpool illuminations, but flashing lights aside, what we like is the price. Enermax will be shipping Staray with an MSRP of £36.80.