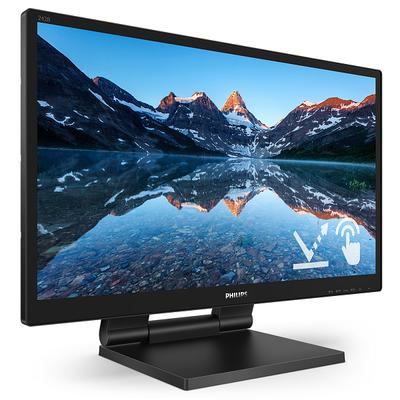 MMD, the leading display specialist and brand license partner for Philips monitors, announces new monitors with SmoothTouch and anti-glare coating: the Philips 172B9TL (17" / 43.2 cm) and the Philips 242B9TL (23.8" / 60.5 cm).
"In today's technology driven world, touchscreens are so well appreciated that they can be applied in a very wide range of sectors: wherever you look around, you can see touch technology based devices in action (retail, transportation, hospitality, education, healthcare). The global market for touchscreen displays is estimated to grow at a CAGR of 7.5% over the next 7 years, reaching US$100.2 billion by 20271" says César Acosta, Product Manager in Europe at MMD Monitors & Displays. "With our aim to achieve a superior level of satisfaction of our customers, we are also making our touch monitor family wider for a flawless and productive experience."
Resistant display to interact with comfort
The new monitors feature SmoothTouch, which means that the display uses projected capacitive 10-point touch technology for fluid response. The glass overlay ensures scratch protection of up to 7H. This is extremely important for certain industries such as retail, supermarkets, logistics and the hospitality sector, where a reliable and scratch-resistant touch solution is needed to run their applications. The display reproduces images that are crystal clear with pure colour and great clarity owing to the anti-glare coating (abbreviated AG) that reduces reflections on the touch monitor screen, avoiding the need for an additional matte film for improved viewing comfort, fundamental in indoor or environments with lights shining directly onto the monitor. These Philips displays also meet the international IP65 rating for water and dust resistance (front only). This ensures protection against water splashes and dust that can happen while in use.
Productivity booster
The two new monitors feature an HDMI port which ensures universal digital connectivity, two USB 3.1 ports for high-speed data transfer and a DisplayPort connection. For improving and ensuring an even better user productivity, the touch monitors can be used with: the user's fingers, a passive stylus made of conductive fabric or rubber, and certain gloves2, making the experience as simple as possible. The new 17" and 24" touch monitors also offer both the Philips SmartStand with Z-type structure with smooth tilt and height adjustments as well as folding capabilities for various ergonomic positions, and the VESA mount for maximum flexibility.
Perfect images
Of a monitor, users demand the best image quality, productivity-enhancing features plus an easy-on-the-eye display as these are essential for both work and entertainment. The new Philips touch monitors offer all of this. Both models are equipped with SmartContrast, a proprietary technology that automatically adjusts colours and backlight intensity for rich details, deep blacks and a great visual experience. Moreover, the Philips 242B9TL features Full HD 1920 x 1080 resolution and displays realistic colours. But visual quality has to come with the highest comfort for the eyes. These models also feature LowBlue Mode developed to reduce shortwave blue light emission, and Flicker-Free technology to eliminate flicker for more comfortable viewing.
Non-stand monitors
In addition to the new models MMD also announces new versions of the previously launched touch displays (242B9T, 222B9T, 172B9T and 162B9T), which now come without the stand. These models are a good option for those who want to use the VESA mount for fixed installations. In such use cases these models are environmentally-friendly options as there is no need to scrap the stand. This extends flexibility and helps optimise customers' and partners' budgets. The models Philips 242B9TN, 222B9TN, 172B9TN and 162B9TN are available now with an RRP of £319, £279, £299, and £229, respectively.

The Philips 172B9TL and the Philips 242B9TL are available now with respectively an RRP of £329 and £369, respectively.
Prices:
| | |
| --- | --- |
| Philips 172B9TL | £329 |
| Philips 242B9TL | £369 |
| | |
| --- | --- |
| Philips 242B9TN | £319 |
| Philips 222B9TN | £279 |
| Philips 172B9TN | £299 |
| Philips 162B9TN | £229 |
Philips 172B9TL: https://www.download.p4c.philips.com/files/1/172b9tl_00/172b9tl_00_pss_enggb.pdf
Philips 242B9TL: https://www.download.p4c.philips.com/files/2/242b9tl_00/242b9tl_00_pss_enggb.pdf