PRESS RELEASE
Introducing the World's First Low Profile 6450 GPU for PCIe 1x slots
HIS 6450 Silence x1 turns your older PC into a powerful Home Media Center
Features & Advantages:
PCIe x1 support: Compatible with PCIe x1 and PCIe x16 systems
Low Profile ready: Ideal for slim cases
Completely Silent: 0dbs noise emission providing an absolute silent environment
London 15 December 2011 - TODAY Hightech Information System (HIS) today announced the launch of the new HIS 6450 Silence 2GB x1, the ideal upgrade solution for legacy systems with only PCIe x1 slots. The new card is a solid entry level GPU, ideal for home media center PCs and server systems. The new cards are the only option for anyone looking for an affordable and well performing low profile video card to fit with PCIe 1x slots.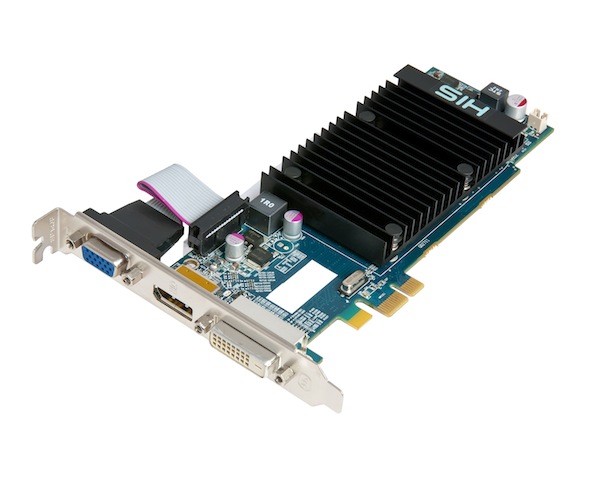 Old systems, New Experiences
Equipped with 2GB of memory, the cards easily handle all tasks, even casual gaming, including DirectX 11 support.
Great Flexibility
The tiny little PCIe x1 connector of the card is compatible with x1, x4, x8, x16 lane PCIe slots - full flexibility for those who need a card moving around different motherboards.
Saves Space with Low Profile Brackets
The cards are bundled with two low profile brackets to fit both full-height and half-height PCIe Slots, ideal for slim cases.
See More, Enjoy More with x1
The HIS 6450 2GB PCIe x1 supports 30" LCD monitor and any large size TV of up to 80" with 16:9 ratio in amazing 2560 by 1600 resolution.
Enjoy Full HD
With Full HD 1080p support, the card is able to deliver high quality 1920 by 1080 graphics.
Enjoy Copy Protected Movies
The card is HDCP complaint, enabling users to play copy-protected content, such as commercial DVD movies.
0db - Silent
HIS' silent passive cooling creates a 0dB environment - the perfect low profile GPU solution for media centers and home media entertainment systems.
Upgrade possibilities for systems come with PCIe1X slots only:
E310
Optiplex 745
Optiplex GX520
PowerEdge SC1430
SFF destop dc series(except dc5100 SFF)
Dimension 3100
PowerEdge Server T110
PowerEdge Server T100
AMD Eyefinity Technology
Run up to 3 displays from a single graphics board and expand your gaming field of view across all displays. Enjoy the ultimate immersive gaming experience with innovative "wrap around" multi-display capabilities.
HIS 6450 Silence 2GB DDR3 PCIe x1 DP/DVI/VGA
http://www.hisdigital.com/un/product2-675.shtml
Where to buy:
http://www.hisdigital.com/un/buy.shtml
Join the Kingdom of Gamer!
http://www.hisdigital.com/member
HIS is now on Facebook!
http://www.facebook.com/pages/Hong-Kong/HIS-Faster-Cooler-Quieter/154000148777
Follow HIS on Twitter!
About HIS
Founded in Hong Kong in 1987, Hightech Information System Ltd. is an internationally acclaimed graphics cards manufacturer. Commitment to Excellence is the bedrock of the company. HIS is proud to be ATI's Authorized 1st Tier AIB Partner, Certified Partner and Launching Partner. Up to the third quarter of 2010, HIS has won over 1,100 awards with ATI graphic solutions from major media all around the world. The performance-leading and award-winning models range from entry level to the most professional level products. HIS have proven to offer far superior, cooler, quieter and faster graphic cards than any other leading rivals. For further information, please visit the web site at http://www.hisdigital.com.