PRESS RELEASE
Expand Your Vision & Hearing with the HIS Multi-View+Sound
London 28 November 2011 - - Hightech Information System Limited (HIS) today made the world's first USB 3.0 to HDMI adapter available - the HIS Multi-View+Sound. Delivering a fast and easy way to expand your visual computing experience across multiple screens, the HIS Multi-View+Sound turns your computer into a gaming and multimedia center!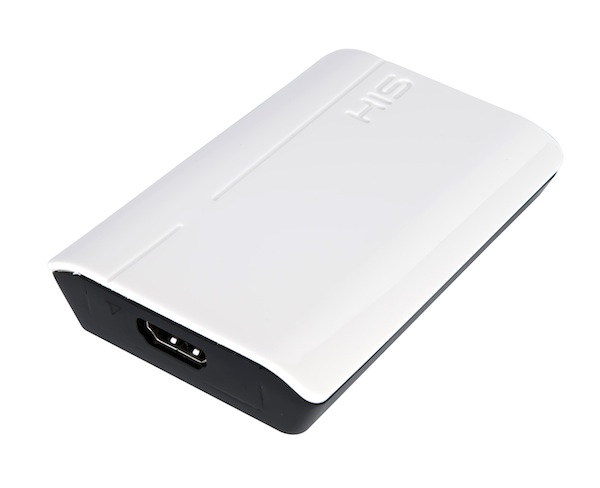 Features & Advantages:
USB 3.0 Support: 10 times faster than 2.0
Backwards Compatible with USB 2.0: User-friendly for all USB laptops or desktops
Supports up to 6 Additional Displays: Enabling multi-tasking and increased productivity
Full HD 1080p & HDMI Output: High quality image & sound, full-screen video playback
HDCP Compliant: Play copy-protected DVDs
DirectX 10 & DirectX 11 Game Support: Play the latest 3D games
USB 3.0 support
USB 3.0 features speeds of up to 5 Gbit/s, significantly reducing the time required for data transmission, as well as reducing power consumption. Up to 10 times faster than USB 2.0, the HIS Multi-View+Sound overcomes USB2.0's limited bandwidth capabilities. The HIS Multi-View+Sound is also backwards compatible with USB 2.0.
See More, Enjoy More!
The HIS Multi-View+Sound supports 27" LCD monitors and TVs of up to 80" with 16:9 ratio in amazing 2048 by1152 resolution. Up-scale your computer into a multimedia center with an immense display!
Enjoy HD Beauty
With Full HD 1080p support & HDMI Output, the adapter delivers high quality HDMI 1920X1080 graphics PLUS sound, enabling seamless full-screen video playback over USB. See HD, hear HD and feel HD!
Enjoy Copy Protected Movies
HIS Multi-View+Sound is HDCP complaint, enabling users to play copy-protected content, such as commercial DVD movies.
Game Better and Faster
HIS Multi-View+Sound is capable to turn your computer into an enthusiastic gaming machine, allowing users to enjoy the latest 3D games with enhanced graphics and effects.
Game Better
With Direct X 10 & 11 support, the HIS Multi-View+Sound is in line with the latest 3D games.
Game Faster
Gamers will be pleased with the ability to achieve up to 60 FPS in various games to enjoy maximum realism!
Sounds Better
Supports both 2.1 and 5.1 channel audio, intensifying the sense of reality!
View More, Work Better
Connecting a second display suddenly becomes ridiculously easy with the HIS Multi-View+Sound. Having one dedicated screen just for twitter or facebook and a second for outlook is not a dream anymore. Simply connect any PC or notebook with USB 3.0/2.0 to an external monitor and your notebook becomes a dual display workstation!
HIS Multi-View+Sound allows you to connect up to 6 monitors, making it the ideal solution for all those who rely on having several applications visible simultaneously for extra productivity. Multi-tasking just got a lot simpler!
HIS Multi-View+Sound Adapter & Games Supported:
http://www.hisdigital.com/un/product2-674.shtml
Where to buy:
http://www.hisdigital.com/un/buy.shtml
Join the Kingdom of Gamer!
http://www.hisdigital.com/member
HIS is now on Facebook!
http://www.facebook.com/pages/Hong-Kong/HIS-Faster-Cooler-Quieter/154000148777
Follow HIS on Twitter!
http://twitter.com/HISdigital
About HIS
Founded in Hong Kong in 1987, Hightech Information System Ltd. is an internationally acclaimed graphics cards manufacturer. Commitment to Excellence is the bedrock of the company. HIS is proud to be ATI's Authorized 1st Tier AIB Partner, Certified Partner and Launching Partner. Up to the third quarter of 2010, HIS has won over 1,100 awards with ATI graphic solutions from major media all around the world. The performance-leading and award-winning models range from entry level to the most professional level products. HIS have proven to offer far superior, cooler, quieter and faster graphic cards than any other leading rivals. For further information, please visit the web site at http://www.hisdigital.com.