PRESS RELEASE
London, 7 October 2011 -- Hightech Information System (HIS) today unveiled their first twin-fan cooler equipped graphics card range, the HIS 6670 Fan 1GB. Low Profile: Ideal for Media Centers & Home Theater PCs!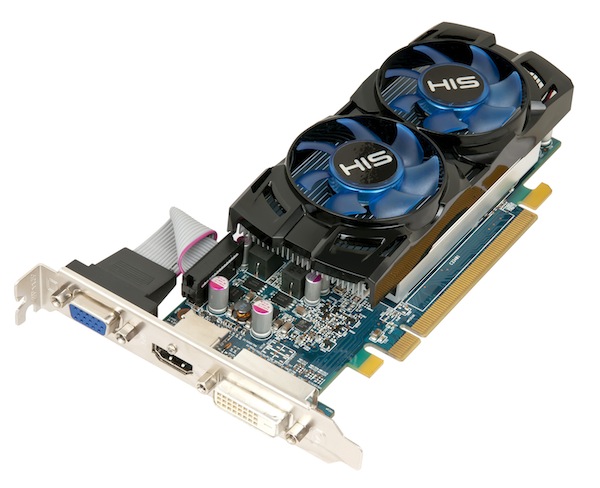 Flexibility: Low profile brackets included to fit both full-height and half-height PCI Slots
Cooling: Twin-fan for double airflow provided excellent cooling performance
AMD App Acceleration
Watch Blu-ray movies, stream online video and other HD content using your AMD RadeonTM HD 6670 GPU. Get smooth playback with improved image quality and video enhancements.
AMD App Acceleration lets you experience all the new GPU accelerated features in Microsoft Office 2010 and Internet Explorer 9. Improved graphics performance, visual effects and video rendering for ultimate entertainment & productivity.
AMD HD3D Technology
Add a 3rd dimension to your games using AMD HD3D technology. Support for hundreds of games in full 3D.
Watch your 3D Blu-Ray movies in vivid color and rich detail using AMD HD3D Technology.
Wide hardware support for 3D HDTV's, 3D Projectors and 3D monitors, as well as supported Notebook systems.

Convert your 2D photos and videos to 3D using AMD's cutting edge HD3D technologies to enhance your playback experience.
Home Theater PC users, looking for that extra bit of cooling to give their system an extra edge, will be delighted with the model's double airflow allowing for expanded cooling efficiency and heat dissipation. The HIS 6670 Fan is another excellent choice within HIS' low profile GPU range for home entrainment enthusiasts looking to build their personal bespoke Home Theater or Media Center PC.
Featuring AMD's latest technologies, wide hardware support for 3D HDTV's, 3D Projectors and 3D monitors, as well as Blu-ray 3D support, the model delivers a premium and reliable solution to Home Media Entertainment enthusiasts. The cards additionally come bundled with two low profile brackets for easy installation in both full-height and half-height PCI Slots
HIS 6670 Twin Fan:
http://www.hisdigital.com/un/product2-672.shtml
Where to buy:
http://www.hisdigital.com/un/buy.shtml
Join the Kingdom of Gamer!
http://www.hisdigital.com/member
HIS is now on Facebook:
http://www.facebook.com/pages/Hong-Kong/HIS-Faster-Cooler-Quieter/154000148777
Follow HIS on Twitter!
http://twitter.com/HISdigital
About HIS
Founded in Hong Kong in 1987, Hightech Information System Ltd. is an internationally acclaimed graphics cards manufacturer. Commitment to Excellence is the bedrock of the company. HIS is proud to be ATI's Authorized 1st Tier AIB Partner, Certified Partner and Launching Partner. Up to the third quarter of 2010, HIS has won over 1,100 awards with ATI graphic solutions from major media all around the world. The performance-leading and award-winning models range from entry level to the most professional level products. HIS have proven to offer far superior, cooler, quieter and faster graphic cards than any other leading rivals. For further information, please visit the web site at http://www.hisdigital.com.