Updates to Windows Phone 7.8 have started to become available for Windows Phone 7.5 devices. Nokia has been at the forefront of informing users about the mobile operating system update and has even provided a snappy video telling users all they need to know about what the update brings and how to install it.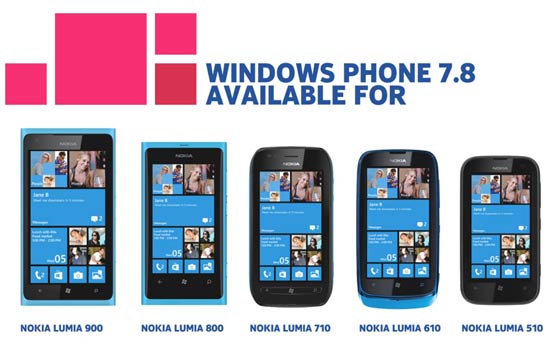 The first and most obvious benefit of the Windows Phone 7.8 update is the new start-screen which looks and works in the same way as the start screen from Windows Phone 8. You gain a lot of customisation options including; more colour theme choices, many more possible tile arrangements due to the three selectable tile sizes and are therefore able to get more of your important data on the home screen. A new lock screen is also in evidence on WP7.8 which is powered by Bing with various imagery and information.
You will lose that little arrow on the top right of your screen which switches from the home screen to the full list of apps on the smartphone but you can still easily access this list by simply swiping to the left.
To get the update Windows Phone 7.5 users must connect their smartphones to a computer via USB and run the Zune application (Windows Phone app on Macs). The updating instructions on screen walk and talk you through the process. Don't use or disconnect your mobile when this is happening!
If you can't get the update by the official/conventional method it is possible to use Microsoft's CAB files to update your smartphone. WPCentral have also now discovered a less hands-on method to get the correct official update by twiddling with your internet connection and Zune. You can read more about that here.
Nokia Lumia 620 available in UK
In related news a new lower priced Windows Phone 8 powered smartphone from Nokia became available to UK buyers today; the Nokia Lumia 620. Engadget informs us that O2 are selling the colourful new handset for £149 on PAYG and giving it away for free on contracts of £18.50pm or over. O2 also give you an extra colourful backplate of your choice for free. Three UK and Virgin also will have Lumia 620s available to purchase starting today. Know Your Mobile do a short review of the handset here and NokNok have a hands-on and unboxing video here.