Apple has unveiled the second member of the iPad Pro family. This new device uses the more familiar iPad standard screen size of 9.7-inches but is equipped with all the 'Pro' features that Apple brought to its large debut 12.9-inch model last year. Looking at this and the previous news story of the iPhone SE launch, it looks like Apple thinks that 'size is everything'.
According the Apple's Phil Schiller "customers have fallen in love with the iPad Pro". Like its predecessor, the new smaller iPad Pro was touted by Schiller as a replacement for your old PC. While smaller and lighter, this newer iPad Pro shares many of the features of its bigger brother but beats it on nearly everything except for the screen size.
The 9.7-inch iPad Pro's screen offers 2048 x 1536 pixels, at 264 pixels per inch (ppi). That's understandably a lower res than the larger stable mate (2732 x 2048 pixels, same ppi) but it offers other improved specs such as; wider colour gamut, and true-tone. It is said to be "the brightest and least reflective display of any tablet".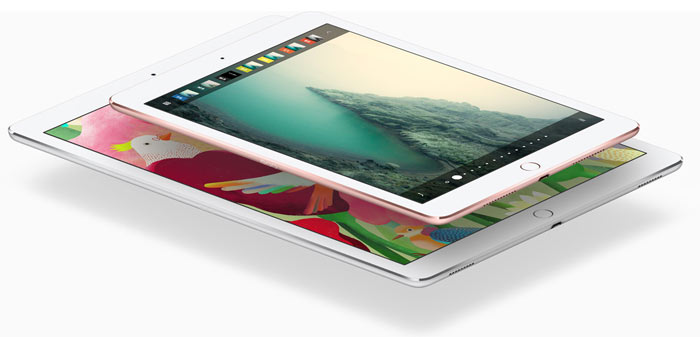 Of course the new iPad Pro is smaller and lighter. It weighs just about 440g compared to the 12.9-incher's 720g. As well as being smaller it is a little slimmer at 6.1mm – this all helps in its bung-in-a-bag portability. Compare the iPad Pro model sizes in the images above and below.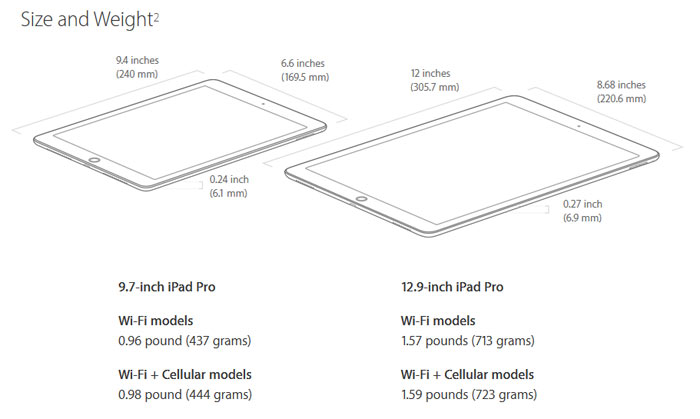 Another advantage of the new iPad Pro is in its cameras. Both the main iSight camera and FaceTime camera have been updated compared to the older model. The new main camera spec is a 12-megapixel iSight camera, with f2.2 lens and auto image stabilisation, it sounds just like the iPhone 6S camera. The FaceTime camera equipped has been boosted from the 1.2-megapixel example on the 12.9-inch iPad Pro model to 5-megapixels, with an added Retina flash unit. With the new imaging abilities Apple suggests users can shot and edit 4K movies on the device.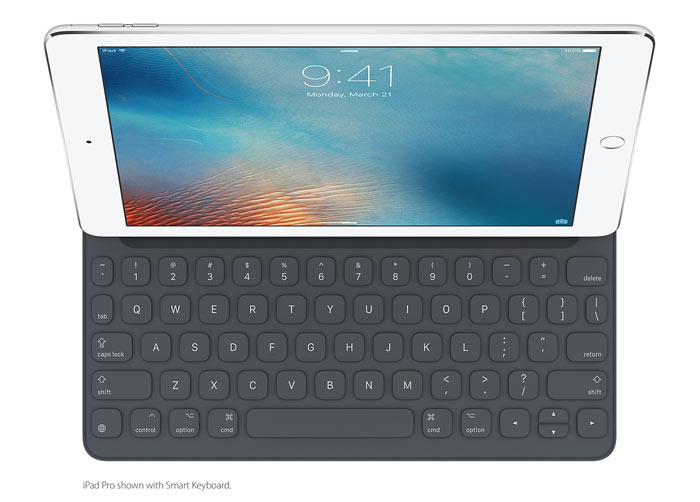 Spoecs in common between both iPad Pro models are; the A9X chip with 64‑bit architecture and M9 coprocessor, the 10 hour battery life, the sensors, Touch ID, Apple Pay, and four speaker audio. Importantly, and making this an iPad Pro rather than a new 'Air' model, it has the A9X chip, and the Smart Keyboard and Apple Pencil compatibility – which apparently makes it great for Microsoft Office editing, mark-up and design.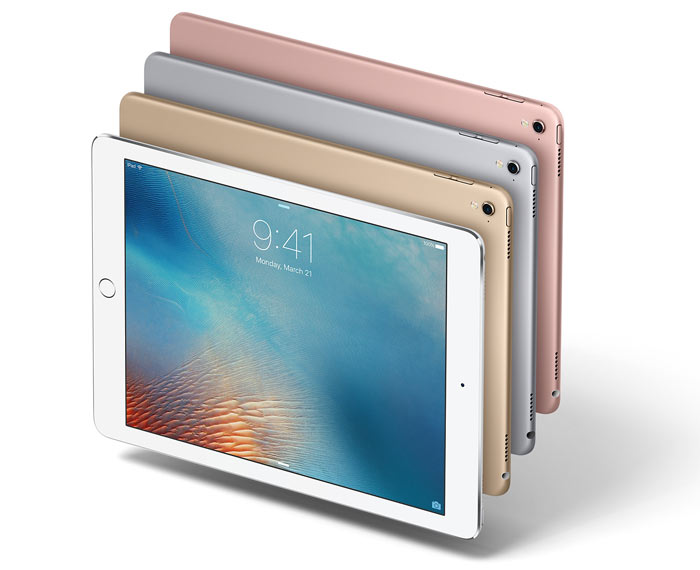 The new 9.7-inch iPad Pro is priced at $599 for the 32GB version, at $749 for the 128GB version, and at $899 for the 256GB version (Wi-Fi only model pricing, please add $129 for LTE versions). The device is to be made available in four metallic finishes, including space grey and rose gold. Apple's newest tablets will hit the shelves starting from 31st March.