Amazon has just blitzed the HEXUS inbox with details of six new Fire products. The new devices include four tablets, a Fire TV stick with voice remote bundle and an upgraded 4K Fire TV box. Of the tablets we have a new generation of the Fire HD8 and HD10, there's the tough Fire Kids Edition and the previously rumoured cheapy ($49.99), simply called the Fire tablet. The Fire TV stick has been bolstered with a voice remote bundle offer. Meanwhile Amazon's top of the range STB, the Fire TV, is faster and now supports 4K ultra HD playback and the same box will be sold as the Fire TV Gaming Edition - but bundled with a joypad.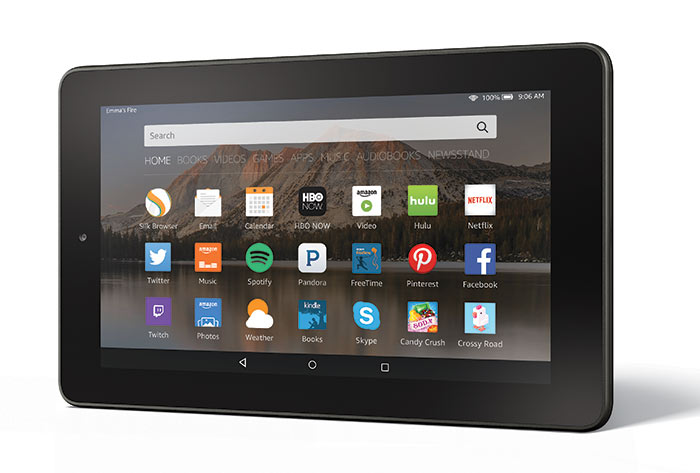 Amazon's tablets
Starting at the cheap end, the Amazon Fire is a 10 .6mm thick, 7-inch device, weighing in at 313g. At its $49.99 price point it includes special offers. The 7-inch IPS display has 1024 x 600 pixels and the device is powered by a 1.3GHz quad core processor backed up with 1GB of RAM. Storage is 8GB with a microSD card allowing another 128GB to be swapped in and out. It features a 2MP rear facing camera and a VGA camera for Skype and so on. Buyers should expect up to seven hours of mixed use. Fire OS 5 'Bellini' comes installed on this device, as it is on all the new tablets.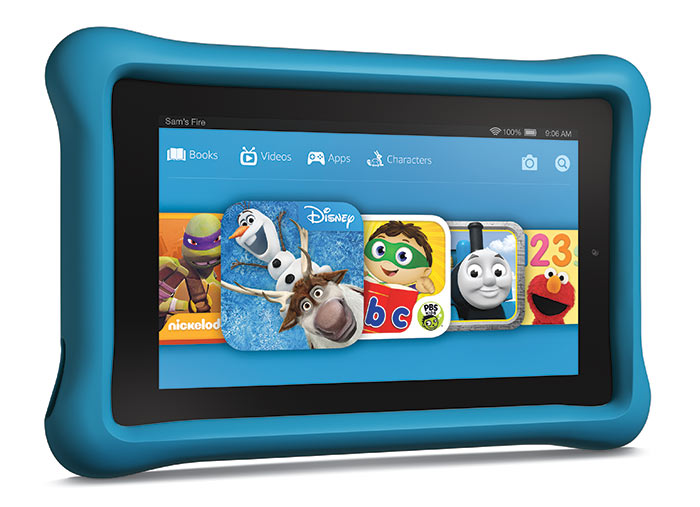 Amazon's Fire Kids Edition shares many of the specs of the above Fire tablet but differentiates itself in a couple of key qualities. First of all the build is substantially ruggedized and thus thicker and heavier. Amazon backs up the rugged design of this tablet with a 2-year worry-free guarantee "if they break it, return it and we'll replace it for free. No questions asked," claims the product page blurb. Another reason to buy this device is the content bundled with it (for a year). Buyers get the free access to 10,000 kid-friendly books, movies, TV shows, educational apps, and games. The device also boasts 'best in class' parental controls. The Fire Kids Edition costs $99.99.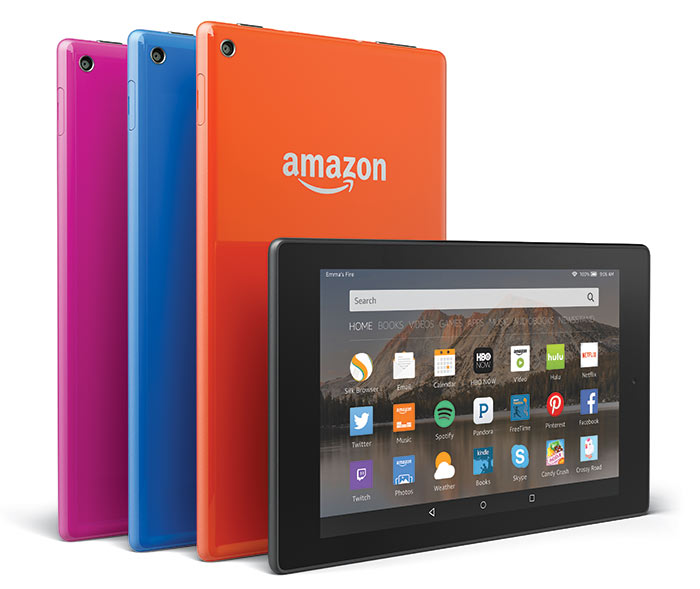 The new Fire HD tablets come in 8- and 10-inch sizes but whatever size you buy you get a screen with 1280 x 800 pixels. These devices have the following common hardware specs; Quad-core processor up to 1.5GHz, 1GB of RAM, 8 or 16GB storage + microSD, 5MP main camera, 720p front facing camera, Dual-band Wi-Fi a/b/g/n/ac and up to 8 hours of mixed use battery life, they both measure 7.7mm thick. The 8- and 10-inchers cost $149 and $229 respectively, and weigh 311g and 432g respectively.
Fire TV devices
Amazon has created a new offer based upon its Fire TV stick. You could already buy the stick and remote for $34.99 but now it is also available bundled with a voice remote for $49.99. Some might be attracted by the potential ease of use offered by the voice search and Alexa integration via the new optional remote.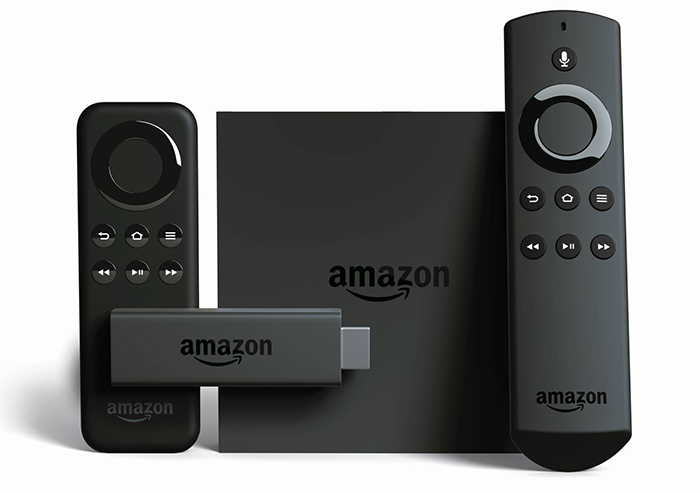 Amazon has refreshed the flagship Fire TV with a new, 75 per cent more powerful, device offering 4K Ultra HD support. It is claimed that this $99.99 device is half the price of its 4K rivals. The new box is said to offer five times the processing power of the latest Roku streamer. It features a 64-bit quad-core processor, 2GB of RAM and a dedicated GX6250 GPU. Again it has just 8GB of built-in storage but you can augment this with a 128GB microSD card. Users have a choice of either Dual-band, dual-antenna, 802.11ac (MIMO) Wi-Fi or Ethernet and you have a USB 2.0 port for accessories. Voice control comes as standard.
Amazon decided not to launch any more smartphones, for now.