Microsoft has started to make available a mid-priced Surface 3 computer model in Europe. At launch, and currently in the UK, the Surface 3 was sold in just two base configurations; 64GB of internal storage with 2GB of RAM fitted, and 128GB of internal storage with 4GB of RAM pre-installed (with the additional choice of Wi-Fi or Wi-Fi plus LTE connectivity). Now customers in Germany are seeing another option: a model with 64GB of internal storage but with 4GB of RAM fitted. From now on we will refer to this model as the 'mid-range Surface 3'.

As reported by BetaNews, the mid-range Surface 3 model sits neatly between the entry level, priced at €599, and the top of the range version priced at €719 (we are comparing non-LTE versions here, as priced at Misco.de). The mid-range model is priced at €659 or just €10 more with a Surface Pen included.
Interestingly, the new model is said by BetaNews to be designed for commercial clients so it doesn't include a free year of Office 365. That could make this Surface 3 less appealing to some would-be buyers who find it for sale at a third party retailer. US buyers have been able get the mid-range Surface 3 model for some time already, not from Microsoft but from retailers like CDW and MacMall. Over that side of the pond it sells for $549.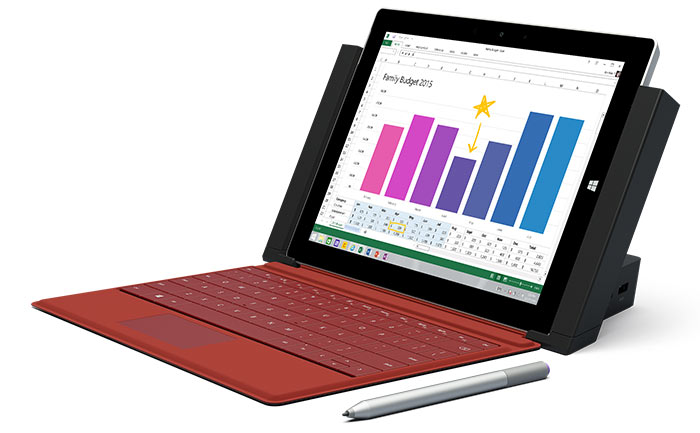 The Surface 3 was launched by Microsoft less than two months ago. It was the first non-Pro Intel-based Surface tablet. Its core specs include; a 10.8-inch Full HD display, a quad-core Intel Atom x7 processor, 2-4GB of RAM, 64-128GB of fixed storage, 3 position kickstand, Windows 8.1 operating system, up to 10 hours battery life, full-size USB 3.0, mini DisplayPort, microSD card reader, headset jack, micro USB charging port and a weight of 622g. In the UK it costs £419 inc VAT for the 2GB RAM/64GB storage model and £499 inc VAT for the 4GB RAM/128GB storage model. LTE models aren't yet sold by Microsoft in the UK. Pens and keyboard covers cost extra.